Tin Pan Alley
(1940)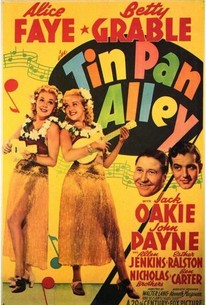 AUDIENCE SCORE
Critic Consensus: No consensus yet.
Movie Info
To quell the rumors that musical stars Alice Faye and Betty Grable detested each other (actually they were fast friends, if not close buddies), 20th Century-Fox cast both ladies in their 1940 "inventory" musical Tin Pan Alley. Set in the years just prior to and during WW1, the film casts Faye and Grable as Katie and Lily Blaine, a singing-sister act playing the vaudeville circuits of the land. Ambitious songwriter Skeets Harrigan (John Payne) senses star potential in Katie Blaine, and his efforts to promote her-and his tunes-at all costs result in a great deal of ill-will before the inevitable happy ending. Counterpointing the likeably ruthless Skeets is his ebullient partner Harry Calhoun (Jack Oakie), who spends most of the picture trying to find suitable lyrics for a novelty ditty he's written, a quest that proves unsuccessful until a stuttering soldier inspires him to write "K-K-Katie". With the exception of the Mack Gordon-Harry Warren song "You Say the Sweetest Things Baby", all the tunes heard in Tin Pan Alley were popular during the period depicted in the film, including "Moonlight Bay", "Honeysuckle Rose", and "Goodbye Broadway, Hello France". The film's best ensemble piece is "The Shiek of Araby", with corpulent "potentate" Billy Gilbert matching the lissome Alice Faye and Betty Grable step for step. Incidentally, this number was one of several to be severely trimmed before final release: removed entirely was a delightful sequence involving the Tin Lizzie-inspired song "Get Out and Get Under", though this scene later appeared on a cable-TV compendium of excised 20th Century-Fox musical highlights. The winner of a 1940 Oscar for Alfred Newman's score, Tin Pan Alley was remade in 1950 as I'll Get By.
Critic Reviews for Tin Pan Alley
There are no critic reviews yet for Tin Pan Alley. Keep checking Rotten Tomatoes for updates!
Audience Reviews for Tin Pan Alley
½
When this was made Alice Faye was queen of the Fox musical lot and so she is very much the focus of this ordinary film with a few good numbers but Betty Grable although clearly in the secondary role was just about to shoot to the top of the pack. The girls are well matched and while not the best partner either ever had make an enjoyable team too bad this wasn't in color it would have perked it up and probably added an extra bit of zip that is missing.
Tin Pan Alley Quotes
There are no approved quotes yet for this movie.