The Tin Star
(1957)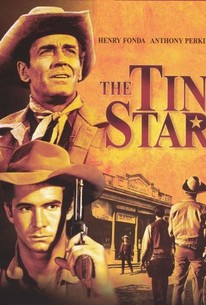 Movie Info
Taciturn marshal-turned-bounty hunter Henry Fonda rides into a small town where greenhorn deputy Anthony Perkins is sole representative of the law. Sensing that the boy could use some seasoning, Fonda makes it his mission to teach Perkins how to protect himself against the criminal element. Though diametrically opposed in personality, the older Fonda and the younger Perkins find they are kindred spirits in their dedication to their work. Using the lessons taught him by Fonda, Perkins is able to prove his worth by taking on town hothead Neville Brand. Directed with a minimum of slack and flab by Anthony Mann, The Tin Star was later spun off into the TV series The Deputy, which starred Henry Fonda and Allen Case.
Critic Reviews for The Tin Star
Audience Reviews for The Tin Star
Great western with another amazing performance from Henry Fonda. I am also getting to understand that Anthony Perkins was more than just the Norman Bates guy. He is solid in this film. Overall, love the way the film was made and enjoyed the pacing a lot. Simple, well crafted western.
Anthony Valletta
Super Reviewer
Fonda and Perkins work off of one another surprisingly well. Fonda is clearly the more comfortable western actor, but it actually works that Perkins seems out of genre since he is the one who must learn to fit the role of a wild west sheriff.
The dialogue, if it can actually be called that, is hardly engaged conversation. It's more like people throwing lines at each other like bullets.
Not a bad movie. My guess is that the next bad guy to come to town after Fonda's exit kills Perkins.
Lanning : )
Super Reviewer
The Tin Star Quotes
There are no approved quotes yet for this movie.