Tinker Bell
(2008)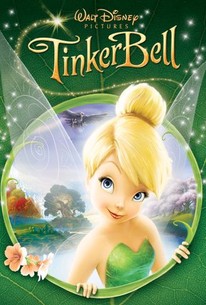 Movie Info
Enter the magical world of fairies and meet the enchanting creatures of Pixie Hollow, who "nurture nature" and bring about the change of the seasons. Changing the colors of the leaves, moving a sunbeam to melt snow, waking animals from their winter slumber, or giving a patch of sproutlings a sprinkle of water are all within the realm of these seasonal specialists. Tinker Bell thinks her fairy talent as a "tinker" isn't as special or important as the other fairies' talents. But when Tink tries to change who she is, she creates nothing but disaster! With encouragement from her friends Rosetta, Silvermist, Fawn and Iridessa, Tink learns the key to solving her problems lies in her unique tinker abilities...and discovers that when she's true to herself, magical things can happen.
News & Interviews for Tinker Bell
Critic Reviews for Tinker Bell
Audience Reviews for Tinker Bell
Kids love it. It was pretty generic, but with nice-looking characters.
Angela Alcorn
Super Reviewer
It has a great message but it's not the Tinker Bell that I remember.
Andreia Cordeiro
Super Reviewer
I was forced to watch this film when i babysat 3 girls under the age of 10. yeah not fun for me at all. i rather hated it. it was bland, predictable and waaay too happy. not good at all. People have told me to cu this movie some slack because it is intended for a younger audience. I will now give you some movies that were intended for a younger audience as well as the rotten tomatoes review that it got: Toy Story (100) Toy Story 2(100) Snow white and the seven dwarfs (98). do you get what i'm saying? you can still have a childrens movie that is good.
Lord Naseby
Super Reviewer
Tinker Bell Quotes
There are no approved quotes yet for this movie.