Tiny Furniture
(2010)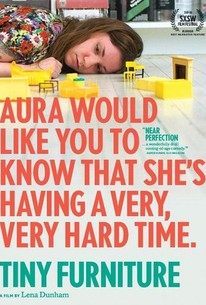 TOMATOMETER
AUDIENCE SCORE
Critic Consensus: Agonizingly funny, Tiny Furniture marks an observant study of a failure to launch and an auspicious debut for writer-director Lena Dunham.
Movie Info
A recent college graduate keeps stumbling as she steps out into the real world in this independent comedy drama. Aura (Lena Dunham) has just graduated from a university in the Midwest, receiving a degree in film theory that even she seems to realize is essentially worthless. With no real prospects she returns home to her mother, Siri (Laurie Simmons), a successful photographer living in New York City. Aura's 17-year-old sister, Nadine (Grace Dunham), is about to graduate from high school and is choosing which college to attend in the fall; Aura is ostensibly back home to help Siri and Nadine during a hectic time, but they don't appear to particularly need or want her assistance. Aura befriends Jed (Alex Karpovsky), a minor celebrity thanks to his surreal YouTube videos, who insists he's in New York to take meetings for an upcoming TV project; he soon invites himself into Aura's bedroom as a semi-permanent guest, though he clearly has no interest in any sort of romantic or sexual relationship. With little else to do, Aura takes a job at a nearby restaurant and becomes smitten with Keith (David Call), one of the cooks; while he seems attracted to her, he also has a girlfriend and it isn't until they're both stoned one night that he makes his move in a rather unusual setting. Tiny Furniture was written and directed by Lena Dunham, who also plays Aura; Laurie Simmons and Grace Dunham are her mother and sister in real life as well as in the film, which was mostly shot in Simmons' actual apartment. The film was named Best Narrative Feature at the 2010 South by Southwest Film Festival. ~ Mark Deming, Rovi
News & Interviews for Tiny Furniture
Critic Reviews for Tiny Furniture
Audience Reviews for Tiny Furniture
½
I liked this film because of how real and relatable it is. It may seem self indulgent but the point is to show how a recent college graduate deals with her issues and tries to figure out her identity as an independent woman in the real world. So, of course, the film features this character's (Aura's) flaws and virtues in ways we may not always like... just like every other human being on this earth. We are sometimes ugly, awkward, pathetic, depressed, and whiny. We get involved with people who aren't worth our time and appreciate others who we sometimes ignored out of sheer ignorance. I like how this film captures those concepts and tries to make us see that Aura is a work-in-progress. She still has a lot of maturing to do, but those stupid decisions she's making now (and which her mother made as well), will (hopefully) make her a better woman in the future.
½
It's a quiet, slow film that features beautiful cinematography, smart writing, and some hilarious moments. However, its pacing is off-putting and not much is accomplished. Nonetheless, it has its moments of affability, and does showcase Lena Dunham's ability to make a dry, black comedy that (if a little more tweaking had been to it) might have been a success.
Matthew Samuel Mirliani
Super Reviewer
½
It's pretty tough to judge "Tiny Furniture" without judging its creator, Lena Dunham. The film is Lena Dunham, or at least a snapshot of her. That's the awesome thing about the movie - by directing, writing, and starring, Dunham has made something so personal that its hard to not be constantly impressed with her. But the problem remains that she is self-absorbed. And thus, so is the film. She knows it, acknowledges it in her script, and has gone on to acknowledge it in Girls, but the truth is, she can't make anything that isn't about her, and she can't stay out of it. She wants people to see how she thinks, feels, and what she desires. And while this is an interesting film for exactly that reason, it also feels like listening to someone go on about their insecurities without a single thought given to anything outside of their bubble. Lena Dunham continues to create in this way. She whines, though she is privileged, as if begging us to believe that she has problems too, and they are just as bad as everyone else's. And while such an experience in real life can be eye-opening, it can also be quite annoying - especially when it lasts an hour and a half.
Sam Barnett
Super Reviewer
Tiny Furniture Quotes
There are no approved quotes yet for this movie.