Tiny Toon Adventures: How I Spent My Vacation
(1992)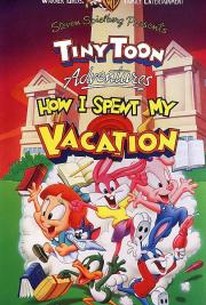 AUDIENCE SCORE
Critic Consensus: No consensus yet.
Movie Info
Term-time ends at Acme Looniversity and the Tiny Toon characters look forward to a summer filled with fun. Buster and Babs Bunny turn a water fight into a white-water rafting trip through the dangerous Deep South; Plucky Duck and Hamton Pig share the most impossibly awful car journey imaginable on the way to HappyWorldLand; Fifi's blind date becomes a "skunknophobic" nightmare; and a safari park is turned upside-down by Elmyra's search for "cute little kitties to hug and squeeze".
Critic Reviews for Tiny Toon Adventures: How I Spent My Vacation
All Critics (2) | Fresh (2) | Rotten (0)
A demented animated film that proves the Tiny Toons were a special byproduct of the Looney Tunes and deserved their own ongoing franchise alongside their predecessors.
Audience Reviews for Tiny Toon Adventures: How I Spent My Vacation
½
This is without a doubt one of the best and laugh-out-loud funniest animated movies I've ever seen. Ahhh, memories! The film revolves around the characters from the hit 90's toon, "Tiny Toon Adventures", as they spend their summer vacations in style! There are four seperate storylines. 1. Babs and Buster going on a raft adventure through America. 2. Plucky and Hammy's family going on a long road trip to get to the world's best amusement park, Happy World Land. 3. Fifi the Skunk chasing celebrity, Johnny Phew, in order to get his autograph. 4. Almyra going on a safari to get a new kitty. All four stories are so gut-busting hilarious! The film makes an excellent use of pop culture refrences and the gags are never tiring. Many animated films these days try to make witty gagas and pop culture references but fail sadly. "How I Spent My Vacation" shows how its done! Well scripted, well set up, jokes and gags are pitch perfect, this film is almost near-perfect. I may be overreacting there. Sadly, this was never released on DVD. I had this on VHS for years and it broke just last year. One of the saddest days of my life. I need all the "Tiny Toons" fans to send emails to Warner Brothers and urge them to bring the DVD or Blu-Ray release to store shelves. This needs to happen before I pass away. Excellent animated comedy! Eighty minutes of pure neverending fun! 100% garunteed to leave you in stitches. It can be viewed on YouTube in parts. I just can't enough of this! "Lights are dimmin'! Lights are dimmin'! Light are dimmin'!"
Bentley Lyles
Super Reviewer
½
The 90's were home to a large amount of cartoons produced by Steven Spielberg. Each one was wacky and hilarious no matter what your age. Tiny Toon Adventures could have fallen flat, as just a "young Looney Toon" idea. Luckily, all of the characters have their own personalities. This is a series of subplots weaved together for a video release. It has all of the excellent humor and adult references, Babs and Buster find themselves in a Deliverance situation. The voice work, comic timing and animation are all wonderful and hold up today.
Luke Baldock
Super Reviewer
Tiny Toon Adventures: How I Spent My Vacation Quotes
There are no approved quotes yet for this movie.