Tiptoes
(2004)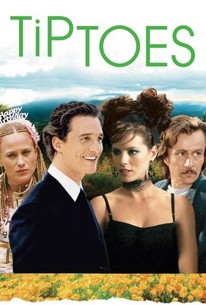 Movie Info
Matthew Bright directs the romantic comedy Tiptoes, written by Bill Weiner. Rolfe (Gary Oldman) is a dwarf, but his brother Steven (Matthew McConaughey) is not. When Steven's wife, Carol (Kate Beckinsale), gets pregnant, she worries about the baby being born a dwarf. She also ends up falling for Rolfe, much to her surprise. Also starring Peter Dinklage and Patricia Arquette. After appearing at film festivals in Europe, Tiptoes made its U.S. premiere at Sundance Film Festival in 2004. ~ Andrea LeVasseur, Rovi
Critic Reviews for Tiptoes
Audience Reviews for Tiptoes
A horrible, horrible, horrible movie whose only saving grace is Gary Oldman.
There's really no explaining why Tiptoes exists. At first glance you might think, "oh, that looks so bad it's funny" or "That's quirky" or maybe even "look at all those stars". However, Tiptoes is complete gutter trash in every sense of the phrase. It's offensive in every way possible and even though it's undeniably funny due to its poor taste, the fact remains that Tiptoes is one of the worst examples of professional film-making that is available to the public. What's so crazy is that someone like Gary Oldman, Kate Beckinsale or even Matthew McConaughey would even would give this premise a second of their time, much less allow themselves to be a part of the movie. They couldn't have been given promise of money or acclaim; my only conclusion would be brainwashing. I mean the script is so terribly written and the story is so poorly strung together that it feels like an episodic journey of PSAs that would've aired back in the 60s for dwarfs being accepted as people. To pile on the trash, it's quite possibly one of the worst looking major motion pictures ever. Even a Lifetime original movie has class in spades above this. Taking this a step further, I just have to question why real dwarfs would want to be a part of this. It's so offensive and sends out a terrible message that no one in their right mind should ever follow. I will be honest, Tiptoes is worth seeing because it's such a train wreck and wrong in all imaginable ways. It's just one of the world's greatest mysteries, Why was Tiptoes ever seriously considered as an actual movie?
Conner Rainwater
Super Reviewer
This film is garbage, no, wait, that isn't fair to garbage. Garbage can break down in compost heaps and go back to the Earth, while Tiptoes role on this planet is neither welcomed nor explained in full. This movie has no redeeming value of any way, shape, or form. It's thoughtless, disgusting, humorless, and surprisingly so since all expectations are shattered when the poster features some of Hollywood A-Listers. The film (if that's what we're calling it) stars Matthew McConaughey (Steven) and Kate Beckinsale as a couple with an unplanned pregnancy, startled by the secret that McConaughey's whole family are dwarves...that's right, the central point that brings the whole movie around is a matter of political correctness that doesn't make sense. Steven himself has lived his whole life with little people, and yet the thought that his unborn child is one makes him so angry that he tilts his head up and opens his mouth a little (McConaughey's version of anger) is intolerable and nonsensical. The worst thing (yes there's a worst thing) about this whole debacle is the role of Steven's brother, played by none other than Gary Oldman. That villain from every decent film of the 90's? Yeah, he's a dwarf now. The aesthetics to create the dwarf persona include fake legs dangling off edges whenever he sits, and an obvious camera angle to hide the fact that he's on his knees. Besides that, there is a subplot between another little person who travels with Oldman, and his hippie girlfriend, played by Dinklage and Arquette. Both characters are repulsive and their stories go nowhere, as they suddenly leave in the last ten minutes of the film, as if to escape it. The film also carries an R-rating, which really screwed itself over, not including the two types of people who would enjoy this: small children and teenage boys. Shallow, too short to form a concrete idea, and just too weird to be of this world, this, I promise you being real, is one film that's always reaching.
Spencer S.
Super Reviewer
Tiptoes Quotes
| | |
| --- | --- |
| Steven: | They are not midgets Carol, they're Dwarves. |
| | |
| --- | --- |
| Carol: | So you had a circle jerk with a bunch of little people? I would love to see that! |