Titanic 2
(2010)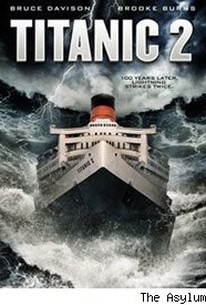 AUDIENCE SCORE
Critic Consensus: No consensus yet.
Movie Info
The passengers on the Titanic II discover that history has a habit of repeating itself when they step aboard the state-of-the-art, luxury ocean liner, and set sail on the same course as the ship's doomed predecessor.
Critic Reviews for Titanic 2
Audience Reviews for Titanic 2
This is the 4th film created to or lets say cursed to entertain by straight to DVD film distributor The Aslyum that I have reviewed. Titanic II is a film that has no real reason to exist apart from maybe to iritate or depress. All of the cast act in the film terribly and there is also no development into character that James Cameron's Titanic managed to do. The film's title can either shout out "sequel!" or "its another ship also called Titanic but happening again" to clueless film fans. If you see this do not buy it because suprisingly a lot of people are, when its plainly obvious that it will be crap. At least with "Snakes on a Train" you thought you were watching "Snakes on a Plane" but come on I have a feeling the film makers are trying to help you avoid buying this after they realise they have made a godawful movie. I will only praise the effects for being slightly better than Transmorphers but despite that the film makers succeed in trying to make a disaster.
Directors Cat
Super Reviewer
what a direct-to-video joke! Proof that you can slap "Titanic" onto any cheap turd and release it. The modern setting doesn't help things. Cheap effects and budget actors ruin any believability. I'm amazed they got away with this.
Lafe Fredbjornson
Super Reviewer
One of the worst low budget movie I have ever seen. This was completely an unnecessary movie to make.
Dead Angel
Super Reviewer
Titanic 2 Quotes
There are no approved quotes yet for this movie.