T-Men
(1947)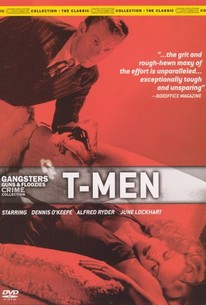 Movie Info
The moodily evocative docudrama T-Men stars Dennis O'Keefe as Dennis O'Brien, a treasury agent determined to bring a counterfeiting ring to justice. O'Brien and his partner Tony Genaro (Alfred Ryder) go undercover to gain the confidence of the ruthless Detroit mob responsible for the phony money. The plot, compelling though it is, takes second place to the film's stylish set pieces, superbly directed by Anthony Mann and brilliantly photographed by John Alton. Among the film's most famous moments is the scene in which two-bit hood Wallace Ford is bumped off in a steam bath by sadistic hood Charles McGraw, not to mention the harrowing vignette wherein O'Keefe, posing as a crook, must stand by silently as his partner Ryder is murdered. One of the finest examples of the film noir form, T-Men proved beyond a shadow of a doubt that a film didn't need to have a lush budget, brilliant Technicolor and Clark Gable to score a hit with postwar moviegoers.
Audience Reviews for T-Men
They don't make them like this anymore. A documentary style film, that uses the characters well and throws in some interesting beats along the way. Film Noir is by far my favourite genre, and it is a shame it has vanished into the void of modern filmmaking. The camera work here is inventive and the direction is top of the line. The studio was short lived and if you look at our current Hollywood system, the new streaming method will hurt some of the bigger studios. T-Men is one of the best films for that year, it was a film not caught up in the big Hollywood market and it serves this film well. The story feels real and thanks to the DP and Director we are rewarded with a stylish film with strong characters and story. A great film. 13/02/2019
Brendan O'Connor
Super Reviewer
½
How exciting, agents of the US treasury are on the case! Okay, I'm being sarcastic, this is a horribly boring movie.
T-Men Quotes
There are no approved quotes yet for this movie.