TMNT
(2007)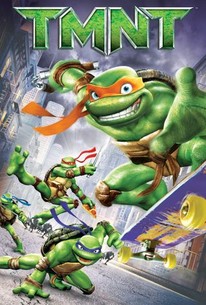 TOMATOMETER
AUDIENCE SCORE
Critic Consensus: TMNT's art direction is splendid, but the plot is non-existent and the dialogue lacks the irony and goofy wit of the earlier Ninja Turtles movies.
Movie Info
The stars have aligned in an ominous sign, and as a legion of malevolent monsters descends upon New York City to wage war against humanity, the only thing that stands between humankind and certain destruction are four wisecracking turtles with a flair for martial arts and a hearty appetite for pizza. Kevin Eastman and Peter Laird's "heroes in a half-shell" return to defend the world against an interstellar threat that comes just once every 3,000 years in a computer-animated action comedy that marked the final film role of Japanese screen legend Mako -- here providing the voice of the eternally wise Master Splinter. Buffy the Vampire Slayer star Sarah Michelle Gellar lends her voice to the role of the turtles' technical-services worker, April; Fantastic Four's Chris Evans assumes the role of hockey-loving crimefighter Casey Jones; Memoirs of a Geisha star Zhang Ziyi steps in as villainous Foot Ninjas leader Karai; and Star Trek: The Next Generation captain Patrick Stewart voices malevolent tech industrialist Max Winters -- a mortal man whose hunger for profit and power may spell doom for all humanity. ~ Jason Buchanan, Rovi
News & Interviews for TMNT
Audience Reviews for TMNT
½
The first fully CGI animated movie for the Turtles after three live action films. I think officially this is suppose to be set after the original film but could easily be a stand alone chapter in the Turtles universe. This whole production is completely different from the previous films, obviously a whole new approach but voice work is all new too, no one from the older films makes a return here. In all honesty this movie is somewhat lacking and merely comes across as a Saturday cartoon series that has been stuck together. It never really feels like a proper movie and the lame plot doesn't really help. Its all to do with trying to conquer the world with monsters from another dimension by a group of elite warriors from 3000 years prior that had been turned to stone. Their immortal leader wants to stop them and break the curse that makes him and his warriors immortal. On and along the way the Foot Clan join forces with the Turtles. It all kicks off well enough, the initial sequence of all four Turtles bounding across the rooftops at night is excellent and really gets you in the mood for some Turtle goodness. That is the kind of visual sequence which wets your appetite for this classic franchise and they captured it perfectly but briefly. The Turtles look agile, firm and well rounded (a good weight to them), they do also have a slight darkness to them, they haven't been totally watered down. Myself I would have preferred them to be much meaner looking but we all knew that wasn't gonna happen. The only thing I noticed was the shape of the Turtles heads seemed a bit squashed. This made their upper lip/snout stick out a bit too far if you ask me, gave their heads a motorcycle helmet type shape. The other thing I didn't like was the guy voicing Leo, hated that voice, just sounds like some pretty boy pop idol voice, there's nothing quirky about it, no character. Another problem I have is the fact the Turtles look good but everybody else doesn't. All the human characters just look like cartoons, the old Saturday morning cartoon issue again. Splinter looks reasonable but maybe too weak looking? none of the other characters really seem to have the right weight to them like the four main stars, this shatters the grown up approach to the film, any sense of graphic novel realism. The same can be said for the CGI in general, backgrounds, cityscape's, vehicles, buildings etc...one minute the movie looks quite dark and brooding, touching on that graphic novel style we all wanna see. The next minute it looks like a damn cartoon! its as though the animators have been reined in, stopped from getting too carried away with creating an adult Turtles film which they know we all really wanna see lets be honest. Add to that the plot feels more like something that would suit Hellboy rather than the Turtles. The flashback sequence explaining the ancient warriors is a great little moment but it just doesn't fit this franchise if you ask me. The monsters also look like creations from a Hellboy movie, nice designs I might add. This is the problem for the Turtles franchise, you can't have them constantly fighting Shredder yet they don't really have anyone else to battle who is popular or well known. The best part of the film is easily the sequence where Leo fights Raph on the rooftops in the rain. This one sequence shows exactly what can be achieved and what everybody wanted to see, more grit. Not only did this sequence look awesome but it gave us a hint of proper characterization, something to get your teeth into, had it been aimed toward adults it would have been even better. There comes a time when you know the Turtles need to swear...and it would be bitchin'. Looking back at this its disappointing, its not like I didn't expect it to be for kids, saw it coming a mile away, but its still such a shame. This movie clearly shows us glimpses of how cool a dark adult animated Turtles flick could be, the evidence is there to be seen, if only they could be true to a franchise.
Phil Hubbs
Super Reviewer
"TMNT" reignites the teenage mutant ninja turtles not in the way that some may have wanted, but in a way that true fans of the characters and a good story can respect. This film is comparable to the original film in many ways, and by the end you feel refreshed after going through the dreaded live-action sequels that are globally hated. This film splits up the characters as if they have grown apart and watching them come together as a team to fight evil once again was fun to watch and being an animated film allowed them to go all out anf I really liked that/ "TMNT" is not great by any means, but it brings the characters back to their roots and their personalities are represented perfectly. Still, the plot is simple, the dialgue is obvious, and you know the outcome, but this is a fun watch!
A lot of movies now a days have to make sense. Did classic science fiction/action films like Invasion of the Body Snatchers and Godzilla have to make sense to be good? No they didn't. TMNT ultimately stays faithful to its predecessor's with the same witty humour and signature character personalities. Plus a stunning technological update with a unique animation style, absolutely amazing voice acting and gripping, entertaining and scary dark overtones.
Directors Cat
Super Reviewer