To All the Boys I've Loved Before
(2018)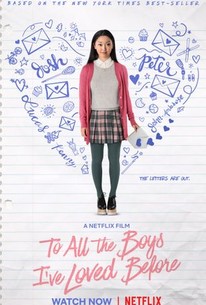 TOMATOMETER
AUDIENCE SCORE
Critic Consensus: To All the Boys I've Loved Before plays by the teen rom-com rules, but relatable characters and a thoroughly charming cast more than make up for a lack of surprises.
To All the Boys I've Loved Before Videos
To All the Boys I've Loved Before Photos
Movie Info
What if all the crushes you ever had found out how you felt about them...all at once? Lara Jean Song Covey's love life goes from imaginary to out of control when the love letters for every boy she's ever loved-five in all-- are mysteriously mailed out. From New York Times Bestselling Author, Jenny Han, the film adaption of the popular YA novel stars actress Lana Condor (Alita: Battle Angel, X-Men: Apocalypse) and Noah Centineo (Sierra Burgess Is A Loser, The Fosters).
News & Interviews for To All the Boys I've Loved Before
Critic Reviews for To All the Boys I've Loved Before
Audience Reviews for To All the Boys I've Loved Before
½
It succeeds because it takes the characters seriously, something these kinds of romantic comedies rarely do.
Alec Barniskis
Super Reviewer
It's another pastel-filtered rom-com with witty and well-groomed teens, but it hits the emotional beats really well and Lana Condor is such an endearing freaking star (as are her counterparts in Anna Cathcart, John Corbett, and Noah Centineo) that director Susan Johnson's To All the Boys I've Loved Before becomes one of those movies you can't wait to re-visit again and again when in need of something that's both comfortable and dramatic without having any real consequence. Johnson creates a world you want to be a part of yourself and frames it all like a modern indie/hipster music video that will firmly plant it in the Instagram age so that it will stand to serve as ample nostalgia for teens two generations down the road; though I can't imagine how today will feel like simpler times for those that are yet to come, but inevitably...they will. To All the Boys I've Loved Before paints a picture of high school as I can only imagine we hope it to be rather than what the reality might look like for the majority-but hey, it's good to have aspirations. Needless to say, I'm anxious to see if Covey will follow the same rule laid out by her mother for Margot (Mona!) or if she'll try and defy the odds. Bring on the sequel, Netflix!
Philip Price
Super Reviewer
½
When Netflix announced that they would be focussing on releasing much more new content to the world in 2018 in both film and television programming, I was both excited and worried. I'll also be a fan of giving more creators the opportunities to make the things they want, but with some degree of discipline obviously. Sadly, although Netflix has been knocking it out of the park in terms of their original series', I can't quite say that about their distribution of feature films. With the exception of a few great indie films, their attempt at releasing Oscar contenders or blockbusters has been quite the failure, at least in my eyes. Happily, after watching one of their most recent releases in To All the Boys I've Loved Before, I can confidently say that this film slips into their small catalogue of solid original films. If you're a fan of the Rom-Com genre, then here's why I think you might enjoy this one. Lara Jean has her life turned upside down when her older sister leaves for college and that same sister's ex-boyfriend (who she used to love and also happens to be their neighbour) is now free. On top of that, the plot truly sets itself in motion when past love letters that she had written to multiple guys, leak out to them. After one of the boys realizes that she had been crushing on him in the past, they form a pact to make everyone believe they're dating, to get back at their ex's. This quickly evolves into something more to both of them and the movie takes a turn for the better. This may seem like a cheesy premise on paper, but it's held together very well by likable performances all around. Lana Condor (X-Men: Apocalypse, Patriots Day) is easily the standout here as the core character and she truly performs as though she may have had similar experiences in real life. I found her to be extremely likable in this role and the way she plays off actor Noah Centineo (SPF-18, The Fosters) was easily the highlight of the movie as a whole. If their chemistry didn't work, then this movie would've been a complete disaster, since 80 percent of the film revolves around their relationship together. This was all made possible by the direction by Susan Johnson. Not to say that Johnson deserves an Academy Award for her work on this film, but I must admit that I didn't find issues within any of performances across the board. That may be due to the casting by Tiffany Man and Tamara-Lee Notcutt, but I believe that a performance is only as good as its director and I believe her work has shined through in this project, as it did for the core performance of Bel Powley in her (feature film) directorial debut with Carrie Pilby. This isn't the case for every indie film, but I truly believe that performances should come first in terms of what the director focusses on. If you have a small budget and audiences will need to be drawn towards the performances of everyone more than anything, then I believe that's always the top priority for a film like this one. To All the Boys I've Loved Before is quite formulaic in its storytelling and you'll probably be able to see where it's going most of the time, but I found myself wrapped up in these characters and was rooting for the inevitable story beats to occur. For that reason alone, I believe this particular movie deserves a pass for being predictable and even a little cheesy at times. This isn't going to go down as one of the best films of 2018 by any means, but I do believe it's worth a look if you've enjoyed movies such as this one in the past. To All the Boys I've Loved Before is an innocent Rom-Com that may be worth your time.
To All the Boys I've Loved Before Quotes
There are no approved quotes yet for this movie.