To Be or Not to Be
(1942)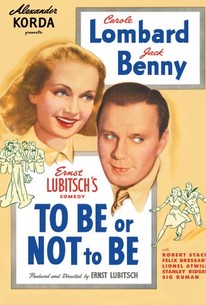 TOMATOMETER
AUDIENCE SCORE
Critic Consensus: A complex and timely satire with as much darkness as slapstick, Ernst Lubitsch's To Be or Not To Be delicately balances humor and ethics.
To Be or Not to Be Photos
Movie Info
Ernst Lubitsch's To Be or Not to Be is a black comedy about a Polish theater company--led by Joseph and Maria Tura (Jack Benny and Carole Lombard)--that turns to espionage after being shut down by the invading Nazis.
News & Interviews for To Be or Not to Be
Critic Reviews for To Be or Not to Be
Audience Reviews for To Be or Not to Be
It takes a brilliant filmmaker to find the perfect tone for something as insane as a slapstick satire involving Nazis at the height of World War II, and Lubitsch not only hits the mark with a fabulous cast (Jack Benny is priceless) but creates a film that is truly hilarious.
Carlos Magalhães
Super Reviewer
½
Many comedies giftwrap the jokes so that the poor rubes (which'd be us) know that that is what they're hearing and/or seeing (think of Mel Brooks or a pie in the face or Vines), but not so here. The Lubitsch touch involves leaving the humor for one to discover - or not - and therein the charm. Benny, f'instance, is totally unbelievable as the leading man, or as a leading man whatsoever, but that works for him here as a insecure ham actor constantly seeking approval. Lombard (braless mostly) shimmers in her last effort gracefully. A delight, and better than Lubitsch's other classics in my opinion.
Kevin M. Williams
Super Reviewer
Quentin Tarantino's Inglorious Basterds lovingly ripped dozens of pages straight from the books of cinema history. From "actors" playing Nazis to trick the Gestapo to a climactic theater "Nazi Night" including a surprise visit from the Fuhrer, Tarantino was perhaps influenced by few more than Ernst Lubitsch's zany satire To Be Or Not To Be. Set in 1940's Warsaw during the German occupation, a raucous theater troupe, led by the arrogant "great, great actor" Joseph Turan (Jack Benny), take on the Gestapo in the name of the Polish Resistance. Variably a farce and a film of vital importance, this 1942 classic took whip-smart shots at Nazi servitude and Jewish sacrifice even before they were known to the American public. (The war would last for three more years.) In 2011 To Be Or Not To Be could be seen as a mockery or a gem. In any case it's a seminal comedy and, like Casablanca, a saavy look at World War II when its outcome was still indeterminable.
Bob O'Reilly
Super Reviewer
To Be or Not to Be Quotes
| | |
| --- | --- |
| Prof. Alexander Siletsky: | I won't be long; the Gestapo is so busy these days I'm sure they'll be glad to get rid of me. |
| | |
| --- | --- |
| Joseph Tura: | I'm going to meet Herr Siletsky at Gestapo Headquarters; and after I've killed him I hope you'll all be kind enough to tell me what it was all about! |
| Joseph Tura: | I'm going to meet Herr Siletsky at Gestapo Headquarters and after I've killed him I hope you'll all be kind enough to tell me what it was all about! |
| | |
| --- | --- |
| Maria Tura: | You certainly don't want me to waste a lot of time giving you a long explanation! |
| Joseph Tura: | No, but I think a husband is entitled to an inkling! |
| | |
| --- | --- |
| Greenberg: | There was no censor to stop them. |