To Joy (Till Glädje)
(1950)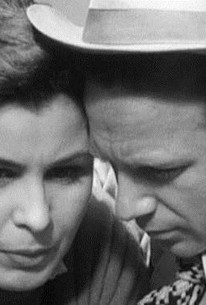 AUDIENCE SCORE
Critic Consensus: No consensus yet.
Movie Info
Pride, ambition and creative temperament take their toll on a marriage in this drama written and directed by Ingmar Bergman. Stig Eriksson (Stig Olin) is a violinist who, after being hired to perform with an orchestra led by demanding conductor Sonderby (Victor Sjostrom), meets another new members of the ensemble, fellow violinist Marta Olsson (Mai-Britt Nilsson). Stig is attracted to Marta, and she has similar feelings for him, though she needs to be assured his interest is not merely sexual before she invites him to move in with him. Stig believes he has the talent to become an orchestral soloist, while Marta plays for the love of music and has no illusions about her potential for stardom. After they marry and Marta gives birth to twins, Stig persuades Sonderby to give him the demanding assignment of lead soloist for a concert featuring Mendelssohn's String Concerto; Stig's performance is all but disastrous, and as his hopes are shattered he questions his talent and his potential, despite Marta and Sonderby's reassurances about his gifts as an ensemble musician. In time, Stig's disappointment and the responsibilities of parenthood lead him into an affair with Nelly (Margit Carlquist), the libertine wife of fellow musician Mikael (John Ekman). Till Gladje (aka To Joy) features a classical score dominated by the works of Beethoven, with Mozart and Smetana also included; Bergman's passion for classical music would also figure into his later films Autumn Sonata and his adaptation of Mozart's opera The Magic Flute. ~ Mark Deming, Rovi
Critic Reviews for To Joy (Till Glädje)
All Critics (2) | Fresh (2) | Rotten (0)
An extremely satisfying piece of cinema - the first Bergman film for which this is unabashedly true.
Overwrought melodrama that traces the pains in a rocky marriage.
Audience Reviews for To Joy (Till Glädje)
a swedish film that all too effectively explains my current feelings about america. we live in a land less of opportunity than of opportunism, a land of excess, ambition, pride, and utility. these themes dominate the landscape of this film and the fates of its characters. bergman avoids taking this film to its ultimate point of tragedy, but the message is still clear and effective. a phenomenal portrayal of issues that hit a chord with me.
½
If you are a Bergman or classical music fan, and can find this obscure early film, (probably only available on the Criterion 'Early Bergman' box set), To Joy... is a superb early example of this god-like artist's genius. It has elements of his iconic landmark masterpieces that will come later, especially 'Wild Strawberries' (including the unforgettable star Victor Sjostrom in a haunting similar role) and Scenes From A Marriage. It's a meditation on marriage (apparently it was atonement for another of Bergman's failed ones) and early mid life crisis. It shows how we men screw it up due to male weakness, sexual adventurism and self-destructive nihilism. Stig and Marta are two orchestra musicians who fall in love and marry, and Sonderby (Sjostrom) is their conductor and father figure to both. Stig is a self absorbed and depressed young man and Marta is a somewhat damaged young woman with a martyr complex. The film is introduced with an emergency call that Marta has died horribly, the kids have survived, then a long flashback into their courtship and relationship. When Stig gets a chance to shine filling in as soloist of the Mendelssohn violin concerto, he screws up the chance, plays horribly, realizes he is mediocre and will always be. His reaction to this epiphany is to perversely cheat on his wife with a loose woman who is the wife of his intellectual friend. The marriage is almost broken, and it takes years to patch it up, with three young kids to raise. They eventually do, and fall into brief domestic bliss before Marta's random and sudden demise. Their relationship and sexual life is treated VERY frankly, with deep psychological truth for 1949. Sjostrom is a wise old bird who but is restrained with his advice. He knows that Stig needs to learn from his mistakes. You can see his facial reaction to the situation, but Bergman, as ever, is restrained with the schmaltz, and the story is told with a nod or a look. The film's main narrative flaw is that Marta is an idealized woman, a saint like character and Stig is mostly humorless and unlikable. This is a common flaw for great male writers and artists who seem unable to create three dimensional women, they are either saints or whores. In this movie you have one of each. Therefore we don't really root for him and can't believe the extent to which Marta is willing to forgive his sins. This imbalance was addressed in Scene From A Marriage (possibly my favorite Bergman) where Liv Ulmann has as many flaws as her husband and is made to examine herself in the course of that long film. The wonderful music (Mozart, Mendelssohn, and of course, Beethoven) sounds great on the Criterion remaster, and is thematically perfect. The final scene, over Beethoven's 'Ode to Joy' accompanied by flashbacks of the couple and ending on a shot of the young motherless boy listening in the hall is unforgettable. This film has many similarities to Tree of Life, both plot wise and music wise and I'm sure it was an influence on Terrence Malick. This movie looks great, with very simple effects and was shot by Bergman's genius DOP, the maestro Gunnar Fischer. The story has all the ingredients that will later evolve into genius, it shows many of Bergman's evolving themes and preoccupations. For those who find Bergman's ambitious iconic films pretentious and heavy (Seventh Seal, Persona, etc.) this may be a more palatable and conventional distillation of the talents of the Greatest film director who ever lived. For me, those films are so intimidating I have been reluctant to review them in this forum. They are perfect works of art. But this obscure gem is a good introduction to the master.
Josh Morris
Super Reviewer
½
The actual release date was 1950 in Sweden, the 1973 date shown here is the American release date. "To Joy" is another of Bergman's first films in the Director's chair and is filled with his somber and dark vision as well as sharp and poignant dialogue. The dialogue here is truly stunning and is a portrayal of Bergman's own ideals and thoughts on marriage and how one's own focus on their limitations can destroy the best things in one's life. He shot this film during a time when his second marriage was ending and was deeply personal for him as both a filmmaker and as a person. The performances are all solid and Victor Sjostrom (The Phantom Carriage Director and Bergman's inspiration to become a filmmaker) gives a witty and equally dark and humorous performance as the orchestra conductor. The film is beautiful and truly a work of art and exudes Bergman's style and mood throughout the film and is a revelation to watch! It features a typical Bergman ending in which isn't a generic happy ending, but rather a sad yet in the end, hopeful message and mediation on life.
Chris Browning
Super Reviewer
To Joy (Till Glädje) Quotes
There are no approved quotes yet for this movie.