To Live and Die in L.A.
(1985)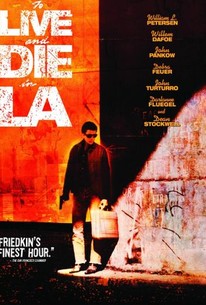 TOMATOMETER
AUDIENCE SCORE
Critic Consensus: With coke fiends, car chases, and Wang Chung galore, To Live and Die in L.A. is perhaps the ultimate '80s action/thriller.
To Live and Die in L.A. Photos
Movie Info
William Friedkin's crime thriller, based on a book by U.S. Secret Service agent Gerald Petievich, concerns an arrogant Secret Service official who wants to get his man at any price. Willem Dafoe plays Eric Masters, an ultra-smooth counterfeiter who has managed to sidestep the police for years. He is so up-front about his dealings, in fact, that when some undercover agents try to make a deal with him at his health club, Eric tells them, "I've been coming to this gym three times a week for five years. I'm an easy guy to find. People know they can trust me." But when young and eager Secret Service agent Richard Chance (William L. Petersen) finds out that his partner has been cold-bloodedly murdered by Eric, he trains his relentlessness upon capturing Eric -- whether it means robbery, murder, or exploiting his friends and associates. As Chance erases the dividing line between good and evil, he drags his new partner John Vukovich (John Pankow) and Ruth Lanier (Darlanne Fluegel), an ex-con, down into the maelstrom with him.
Critic Reviews for To Live and Die in L.A.
Audience Reviews for To Live and Die in L.A.
½
An explosive thriller very well directed by William Friedkin, with great performances, many awesome action scenes - especially an exhilarating car chase - and a morally thought-provoking story that culminates in a fantastic, shocking ending.
Carlos Magalhães
Super Reviewer
½
'To Live and Die in L.A.' is ultimately something of a snorefest; watch this with even a grain of lethargy and you'll be lost. And that's a shame, because there is much artistic merit to be found in the film. The killer Wang Chung soundtrack compliments stylish sequences throughout, and is especially effective when capturing the Los Angeles landscape. The opening montage is very striking both visually and aurally; the sequence showing Master's counterfeiting procedure is also a pleasure to watch. Sadly though, the first twenty minutes and the closing credits of the film are the most interesting and engaging. Even its stylistic flair becomes tired, Wang Chung being overused and placed in sequences that just don't require it. To Live and Die in L.A. could've been far tauter; it rouses you from your catatonic state only a few times with its surprising gore and of course that famous lengthy car chase. The premise is simply Richard Chance's (William L. Peterson) relentless pursuit of a murderous counterfeiter named Eric Masters (Willem Dafoe) who has killed Chance's partner and 'best friend for seven years'. Chance, his safety hindered in the haze of his own hubris, is prepared to do whatever it takes to put an end to masters, even if it means breaking the law he enforces. Peterson's anti-hero isn't without his clichés: when presented with new partner John Vukovich (John Pankow), the film indulges in the common 'You know I work alone' cliché. In its entirety, To Live and Die in L.A. is a superficial, viewer-unfriendly production that just doesn't engage it's audience; the characters are flat and the plot is bloated and hard to follow. Its aesthetic redeeming features are seldom found over the course of 1hr 56 minutes, and even if there were more, it wouldn't save this film from its unsubstantiated characters and narrative.
Jack Hawkins
Super Reviewer
½
I don't throw around the term neo-noir lightly, but this film has the body of your average 80's cop thriller, with the heart and soul of a noir. William Petersen is good here as the hard-boiled and morally ambivalent detective Chance. As for Friedkin, whether he wants to admit it or not, is not a God. But he does know how to craft a compelling film. Although this is not as captivating as the French Connection or the Exorcist, the action scenes are still very impressive and shot with vigor. He takes chances that really elevate the material in a lot of ways. The story is a bit messy and the film is steeped in the 80's aesthetic which unfortunately does not age well. However, it is much better than you would expect of your average thriller.
To Live and Die in L.A. Quotes
| | |
| --- | --- |
| Vukovich: | You work for me now. |
| | |
| --- | --- |
| Richard Chance: | if you want bread go to a baker. |
| Richard Chance: | If you want bread go to a baker. |
| | |
| --- | --- |
| Richard Chance: | Guess what? Uncle Sam donâ??t give a shit about your expenses. You want bread, fuck a baker. |
| Richard Chance: | Guess what? Uncle Sam don't give a shit about your expenses. You want bread, fuck a baker. |
| | |
| --- | --- |
| Eric Masters: | You're beautiful. |