To Wong Foo, Thanks for Everything! Julie Newmar
(1995)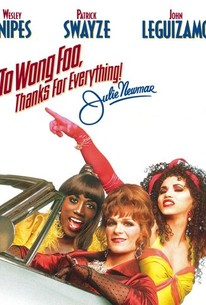 TOMATOMETER
AUDIENCE SCORE
Critic Consensus: To Wong Foo, Thanks for Everything! Julie Newmar seeks to celebrate individuality, but is too timid and predictable to achieve its admittedly noble aims.
To Wong Foo, Thanks for Everything! Julie Newmar Videos
To Wong Foo, Thanks for Everything! Julie Newmar Photos
Movie Info
Noxeema Jackson, Vida Boheme, and Chi Chi Rodriguez are gonna show America a thing or two about being fabulous. Dressed to kill, with their Dynel tresses tossing in the breeze behind them, these three stars of New York's drag-queen beauty pageant circuit have hit the open road in a 1967 Cadillac convertible. Destination: Hollywood. But the trio is in for a detour when the car breaks down in the tiny midwestern town of Snydersville, where drag queens are about as common as August snowstorms. Up to now Snydersville has been a lot more like a graveyard than a town. That's all about to change. The local citizenry is going to get an infusion of flash and glamour the likes of which it's never seen. During the course of one incredible weekend, eyes will be opened, broken hearts healed, and hair teased within an inch of its life.
Critic Reviews for To Wong Foo, Thanks for Everything! Julie Newmar
Audience Reviews for To Wong Foo, Thanks for Everything! Julie Newmar
Released one year after the Australian drag queen comedy 'Priscilla', Hollywood had taken notice of its popularity and as Hollywood does, it churns out a US version. Now this film isn't a remake of 'Priscilla' but quite clearly a leap on the drag queen bandwagon in hopes to hover up the new found success. The outcome? need I really tell you?? its obvious isn't it, a poor equivalent naturally. You see the thing is, the Aussie flick was original and had a heart, a soul, there was a good story inside that made you love and care for the characters. The very real sensitive issues weren't rammed in your face, plus the casting was excellent and didn't utilize big name stars (at the time...apart from Stamp). This glitzy US contender had none of that, the plot is as predictable as the rising sun. Two drag queens (and another that hitches along which they call their apprentice) go off on a road trip across the US to enter into a kind of national Miss Drag Queen contest in CA. Along the way they get stranded in a small male chauvinistic run town where...guess what! they manage to change the towns bigoted ways (the men) and help the women become more independent and free from their male overlords. Oh and they also assault a bigoted corrupt redneck police office type played perfectly by Chris Penn. He chases them through the film and displays the kind of prejudice you would expect whilst also begging the question, is his character in the closest perhaps?. So you have every sexist homophobic angle you can think of covered just to try and scrape together an interest with the right audience and get on their side. The whole plot is so contrived and phony, no soul here, just a money spinner. A typical Hollywood production that forces the ideas of female oppression in a male-dominated society and homophobia down your throat, so heavy and obvious its hokey. I think the main hook was just the fact that three big tough butch male stars (well two) are the drag queens. Normally in serious films or violent action films, Swayze and Snipes are the draw. Swayze actually does look quite elegant and beautiful as a wealthy looking middle aged female in 50's (I think) attire. Snipes doesn't fair quite so well frankly but Leguizamo as the third queen is again surprisingly cute looking, but bordering on slutty n easy which is his Latino character not my desires. So really the only thing here was the shock value of seeing two hard action heroes and a serious character actor play screaming queens, that's why they cast them I reckon. Although I must give Swayze his dues, he does play the part of a man struggling with his inner feelings well. The battle against his disapproving parents is briefly played on but overall Swayze definitely musters some tender moments. Apart from that there really is nothing else here to shout about, good morals maybe, but overdone. Had the Aussie film never existed then this would be looked upon as much more original and fresh instead of an average follow up. The soundtrack isn't in the same class as 'Priscilla', there are too many cheesy cameos, the plot is so artificial/mainstream/forced/laboured with an ending that rips off 'Spartacus' and of course overall, its just not as good as 'Priscilla'.
Phil Hubbs
Super Reviewer
Patrick Swayze, Wesley Snipes, John Leguizamo, Stockard Channing, Blythe Danner, Beth Grant, Melinda Dillon, Chria Penn, Jason London, Arliss Howard DIRECTED BY: Beeban Kidron This is one of those movies that I can watch anytime. It's a bit disturbing seeing these well known actors dressed up as females, and it just can't be me who thinks Wesley Snipes looks crazy scary. But like I was saying I can watch this movie anytime. I stop and watch it every time it's on t.v. Guilty pleasure kinda film. The acting isn't all the great neither is the story. But its entertaining none the less. Its has funny moments and tries to tackle a serious issue of spousal abuse. But it just all ends up being a silly movie. Its great fun with a great cast and supporting cast. Give it a watch if you haven't.
♥˩ƳИИ ƜѲѲƉƧ♥
Super Reviewer
I was expecting something more but this just fell flat. It was enjoyable enough and fun but not a laugh-out-loud comedy. Patrick Swayze has got to be the worst drag queen ever. John Leguizamo was almost believable.
To Wong Foo, Thanks for Everything! Julie Newmar Quotes
There are no approved quotes yet for this movie.