Toast
(2011)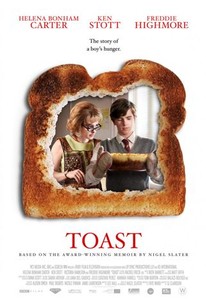 Movie Info
Nigel's mother (Victoria Hamilton) appears to have been the world's worst cook, boiling unopened cans of food to a soggy pulp and nervously refusing young Nigel's (Oscar Kennedy) suggestions that she try an occasional fresh veg. After many a ruined dinner they fall back on that old reliable, toast-the one dish she has mastered. But Nigel loves her dearly, and is devastated by her early death, leaving him and his lonely dad (Ken Stott) to look after each other. When new cleaner Mrs. Potter (Helena Bonham Carter) arrives, her curves, charms and fabulous lemon meringue pies quickly bewitch Nigel's father, and, much to his son's horror, the three move to the country to live together. The one silver lining is Domestic Science class at Nigel's new school, where Nigel (now played by Freddie Highmore) can finally shine. Soon he and Mrs. P. have embarked on a highly competitive cooking duel, vying for Dad's affections. -- (C) Official Site
News & Interviews for Toast
Audience Reviews for Toast
½
I actually know nothing about the man this is based on, so didn't know what to expect. Actually, it was pretty good. The kid who plays young Nigel is excellent (this coming from me - I normally find child actors cloying and can't wait for the older cast to take over, so that's how good this kid is). I was sorry when "older" Nigel took over. Interesting look at a young boys childhood in the 60's, the setting was great, really convincing as being that era. It's only 90 minutes long, so strange that it feels long, yet is rushed. The older Nigel bits only total 30 minutes and barely tell any story I loathed mrs Potter as well. Probably only at the very end I felt any sympathy. Nigel does seem cruel by then. Then again. Patronising hag smoking all over the place, I don't know I would have wanted to stick with her either. Then again, 60's, hard life, hard to judge.
Nicki Marie
Super Reviewer
½
While young Nigel(Oscar Kennedy) may love his parents(Victoria Hamilton & Ken Stott), he is nowhere near that fond of his mother's cooking, even though she can rock a slice of toast. Inspired to do better, Nigel cooks them spaghetti bolognese for dinner, a dish they are puzzled by. That all turns to be a moot point when Nigel's mother falls ill, a condition he initially thinks might be caused by her being pregnant. "Toast" is an oddly engaging movie that is aided by some great moments, including one where Nigel's friend points out that growing up in a dysfunctional household can only make him interesting as an adult, a sentiment I would like to agree with despite the lack of scientific studies. And that's not to mention a controlled gonzo turn from Helena Bonham Carter that turns Mrs. Potter from monstrous to I think something approaching a tragic figure. All of this is in the service of learning not to take anything for granted. But then "Toast" is set in the dreary back end of England(at first I thought this might be the 50's until a random group of hippies are shown on a pier and the great use of Dusty Springfield songs) which is quite possibly hell for any aspiring foodie, if the reported awfulness of English food is/was anything to go by. On the other hand, the fact that we get both ends of the spectrum of dishes admittedly does go a long way to disprove that whole line of thought.
What a wonderful little movie! Nice BBC film based on the early life of UK food critic Nigel Slater. Good performances by Oscar Kennedy as the young Nigel, and Freddie Highmore as the teenaged Nigel. In addition to providing food porn in dessert form, the set design is also awesome with lots of yellows and greens. Very 60s! For the sharp-eyed, Nigel Slater makes a cameo near the end as a chef at the Savoy. A truly nice surprise, because I wasn't expecting too much from this movie. I love when I am treated to a true delight!
Cynthia S.
Super Reviewer
Toast Quotes
| | |
| --- | --- |
| Young Nigel Slater: | No matter how bad things get, it's impossible not to love someone who made you toast. Once you've bitten through that crusty surface, to the softer underneath and tasted the warm salty butter, you're lost forever. |
| | |
| --- | --- |
| Dad: | Thanks for the cake Nigel. Lovely gesture. |
| Mrs. Potter: | It's really not that bad for the first attempt. |
| | |
| --- | --- |
| Young Nigel Slater: | Oh milk. I think I'm gonna throw up. |
| Primary School Teacher: | Drink it now! It's good for you! |