Today We Live
(1933)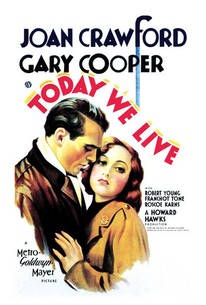 Movie Info
This drama, set during WWI, centers on a pleasure-seeking British girl who is romantically involved with her brother's naval buddy. She then sees and falls for an American pilot. When the pilot is listed as dead, the girl returns to the sailor. However, the flyer didn't actually die.
Critic Reviews for Today We Live
Audience Reviews for Today We Live
½
Ponderous, miscast slog of a film. The performers try their best but only Cooper's character is believable. Crawford, Young and Tone are all supposed to be British born, none speak in anything but refined American accents. Their parts should have been played by Diana Wynyard, Ronald Coleman and Leslie Howard. The film would probably still have been a bore but at least it would have felt grounded in some kind of reality.
½
Despite being made by the infamous Hawks, written by Faulkner, and starring some great legends in the likes of Crawford, Cooper, Young, etc., this movie is as frustrating to watch as putting together a puzzle that you know is missing pieces. The fault mainly lies in the editing, as the running time was cut from 135 min. We are left watching scenes take place that we don't understand why it's happening. The dialogue, as the film, is somewhat staccato in its delivery. This film would have succeeded more as a war film and left off the added romantic triangle.
nefnie lee
Super Reviewer
Today We Live Quotes
There are no approved quotes yet for this movie.