Today You Die
(2005)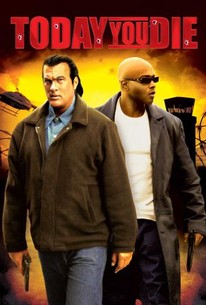 AUDIENCE SCORE
Critic Consensus: No consensus yet.
Movie Info
A crook with a conscience takes on the men who turned on him in this action thriller. Harlan Banks (Steven Seagal) is a world-class thief who has always picked his own jobs and tried to pull heists that would leave him room to help out others; he also has powerful psychic abilities and can punish a man simply with the powers of his mind. But the work keeps getting riskier, and at the urging of his girlfriend, Banks has decided to pull one final job, going in with some men who are planning a 20-million-dollar casino robbery in Las Vegas. Banks is double-crossed by his new partners, and while he gets away with the money, Banks also ends up behind bars. Now his fellow crooks want the cash and will do anything to get it, but Banks isn't eager to part with a hard-earned dollar, and with the help of Ice Cool (Anthony Criss, aka hip-hop star Treach), he busts out of prison to claim what's his. Along the way, Banks uses both his hands and his mind to even the score with the men who betrayed him. Today You Die's spectacular chase footage was shot on location in Las Vegas.
Critic Reviews for Today You Die
Audience Reviews for Today You Die
If you were to choose between watching a bad Jean Claude Van Damme flick or a bad Steven Seagal flick, choose Jean Claude Van Damme. Unlike Van Damme, the problem with Seagal is that he always sticks to the same old routine and honestly it's getting old. Today You Die is about a former thief who's been framed for a robbery and seeks vengeance on the man who framed him. The movies expect the audience to buy allot, you'll buy that Seagal is a Robin Hood like hero, but giving him an actual attractive girlfriend is little too much for some. Now the plot has nothing to offer, whenever there's an action scene Seagal easily takes out the henchmen easily in boring fashion. I like to pretend in a scene where's Seagal reading a book that the cover is never shown is the "How to choose good roles that build on your characteristics by Arnold Schwarzenegger". Or my personal favorite "The Van Damme guide to a successful career by Jean Claude Van Damme", simply wondering what book Seagal reading is more entertaining than the plot. I found it laughable that the police are constantly questioning Seagal on the whereabouts of a truck he used in a robbery even though the police clearly stated they found it several times. Expect the usual elements from Steven Seagal which includes hard to hear dialogue since he whispering, not getting hit, calm expression when someone points a shotgun at his face, and especially the "Where's my paycheck" attitude. It's a Steven Seagal film, don't expect much. Steven Seagal acting is still very much awful. I notice very quickly how the camera keeps showing Seagal back with some occasional close ups during the action scenes and it turns he didn't his own action scenes. What the point of having Seagal in the movie if he doesn't fight in his own movie. Why not simply get someone like Scott Adkins who can actually change his facial expression and does his own action scenes. Enough about Seagal awful acting, the rest of the cast at least showcase even the smallest effort in there acting. Yeah the cast acting is still bad, but it better than Seagal and that's good enough for me. During my viewing of this awful movie, I couldn't help notice that it uses footage from other movies. I know the movie had a low budget, most likely of Seagal unreasonably big paycheck, but resorting to stock footage to make the movie longer instead of sticking to the budget and keeping it short is simply cruel. The rap music in this movie doesn't exactly say action movie on it and it doesn't go with the movie in general. On the bright side the movie did have one actual star, a pre famous Chloe Moretz who appears in two scenes delivers the movie best acting. Clearly she should've been breaking bones instead Seagal. Today You Die is just another typical Seagal action flick with the same old tricks that are just getting plain boring. You're better off watching some other straight to DVD movie.
Caesar Mendez
Super Reviewer
½
I once had this dream where Steven Seagal and Nick Mancuso were both in the same movie about a modern day Robin Hood in Las Vegas. And Seagal's character has a girlfriend who's psychic or something and arbitrarily explains her pointless visions that have zero relevance to plot. Oh, and Treach plays his street-wise black friend. Oh, and Seagal is so cool and street-wise himself that he can easily fit in with the various prison ethnic groups. And as if that weren't enough the "writer" of this film bookends the plot with some thing about a children's hospital going out of business (running low on sick kids?) which is supposed to help us forget about the previous two hours in which Seagal levels several buildings and kills or mames several hundred people (some of which are cops). and then I woke up and Today You Die was on television. I could actually feel my brain cells withering up and dying sad deaths as I subjected myself to D-grade Seagally goodness.
Brett Warren
Super Reviewer
One hell of a cool kick-ass thrill-ride. A full-throttle thriller that packs a full-clip of explosive action and teriffic buddy humor. A sharp, stylish, frequently funny and action-packed thriller. One of the better Steven Seagal films i have seen in a very long time. Anthony 'Treach' Criss and Steven Seagal have great chemistry, making them a great team to watch.
Today You Die Quotes
There are no approved quotes yet for this movie.