Toe to Toe
(2010)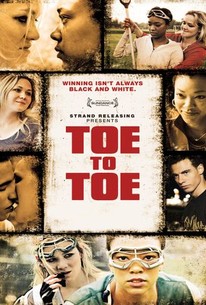 Movie Info
Two seniors at an elite Washington, D.C. prep school forge a close relationship on the lacrosse field, only to find their growing bond tested in this drama inspired by a study that indicates interracial friendships end at age 14 for approximately 87 percent of American teenagers. Fiercely determined to succeed and build a brighter future outside of Anacostia, Tosha (Sonequa Martin) is an African-American scholarship student from one of Washington's poorest neighborhoods. Perhaps Tosha's polar opposite, Jessie (Louisa Krause) is a privileged white girl from Bethesda whose promiscuous tendencies threaten to become her undoing. Though the relationship shared between the two girls is most certainly of the love/hate variety, they both strive to gain a better understanding of one another's plight as society threatens to drive them ever farther apart.
Critic Reviews for Toe to Toe
Audience Reviews for Toe to Toe
½
Well-acted drama centered on interracial relationships and economic statuses between two vastly different worlds that connect demonstrating how small it is after all. A great film from the Sundance Film Festival.
Movee Critic
Super Reviewer
Toe to Toe Quotes
There are no approved quotes yet for this movie.