Together (He ni zai yi qi)
(2003)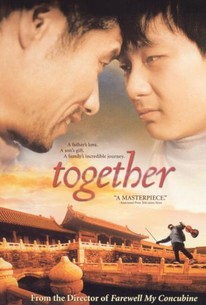 Together (He ni zai yi qi) Photos
Movie Info
Chen Kaige's first Chinese film since the poorly received, Hollywood-produced Killing Me Softly is based on a true story of an adolescent violin prodigy coming of age in Beijing. Raised in a small town, Xiao Chun (Tang Yun) is brought to Beijng by his devoted single father, Lui Cheng (Liu Peiqi), who recognizes his talent and is determined to make him a success. After losing a rigged competition for admission into a prestigious music school, Xaio Chun is taken as a student by a brilliant but distracted teacher, Jiang (Wang Zhiwen), and begins to become distracted himself by his twenty-something party-girl neighbor Lili (Chen Hong). He eventually leaves Jiang for more rigorous study under a more famous teacher, Professor Yu (played by director Chen himself), which leaves him torn between his burgeoning career and the loving father who has sacrificed so much for his benefit. Woven throughout the narrative are trenchant comments about the changing face of modern Beijing.
Critic Reviews for Together (He ni zai yi qi)
Audience Reviews for Together (He ni zai yi qi)
Another masterpiece from one of Asian cinema's best filmmakers. Beautiful, touching, and boasting memorable and real characters.
Edward Boxler
Super Reviewer
I have to admit: I didn't see the first 20 minutes, but it grabbed me immediately. It's about the love between a father and a son. The father wants to give his boy the chance to become a famous violinist, even if this means they can't be together (there's a beautiful story behind it all). The boy feels responsible for the people around him and will do just about anything to please them. What can I say more.. Great characters, great movie, see it!
Outstanding Film, All Subtitles, But this didn't take away from the movie, Very Intense, A Must See.
Bruce Bruce
Super Reviewer
Together (He ni zai yi qi) Quotes
There are no approved quotes yet for this movie.