Tom and Jerry Blast Off to Mars
(2005)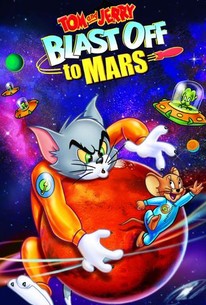 AUDIENCE SCORE
Critic Consensus: No consensus yet.
Tom and Jerry Blast Off to Mars Photos
Movie Info
America's favorite cat and mouse team take inter-species rivalry into outer space in this animated comedy adventure. Tom and Jerry are accidentally carried along when the first manned mission to the planet Mars takes off. Once the spaceship lands on Mars, Tom and Jerry are found out, though the big news comes when they discover the Red Planet is not only inhabited, but some of its crankier citizens have a plan to take over the Earth. With the help of a friendly Martian girl, the cat and mouse must battle a monstrous robot and brave a shower of asteroids in order to save the Earth. Tom and Jerry: Blast Off to Mars includes the voice talents of Brad Garrett and Billy West.
Critic Reviews for Tom and Jerry Blast Off to Mars
Audience Reviews for Tom and Jerry Blast Off to Mars
the movies are nothing compared to the original show, and that is pretty sad. Its all silent but its not funny at all.
Michael Edwards
Super Reviewer
Well it isn't as bad as the Tom and Jerry movie from many years ago. At least here they don't talk, nor are there any horrific songs. The problem is that Tom and Jerry is hardly feature length material. This results in bizarre situations such as this, where the pairs antics lead them into space and almost cause an alien invasion. The voice acting from the other characters is painfully cartoonish and irritating. It's also not helped by the fact that I think Jerry is a bit of a cunt. Sure he saves Toms life, but ultimately he is a filthy, tax dodging squatter that deserves an ASBO. Entertaining enough, but I'll stick to the 5 minute classics.
Luke Baldock
Super Reviewer
Tom and Jerry Blast Off to Mars Quotes
There are no approved quotes yet for this movie.