Tom Jones
(1963)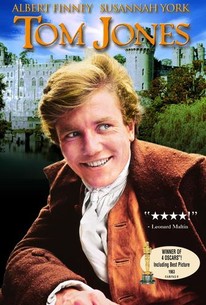 TOMATOMETER
AUDIENCE SCORE
Critic Consensus: A frantic, irreverent adaptation of the novel, bolstered by Albert Finney's courageous performance and arresting visuals.
Movie Info
This bawdy, funny adaptation of Henry Fielding's classic novel follows Tom Jones, a country boy who becomes one of the wildest playboys in 18th-century England. Over the course of the film, Jones tries to amass his own fortune and win the heart of Sophie.
Critic Reviews for Tom Jones
Audience Reviews for Tom Jones
The wanderings of the wittiest eighteen century bastard-gentleman. An enormous Albert Finney and an equally great supporting cast give life to Tony Richardon's vivacious, rhythmic and cunning storytelling. Full of charm.
Pierluigi Puccini
Super Reviewer
Including a famous seduction scene involving the rapturous eating of a meal, the best hunt ever filmed bar none, and a handful of zesty performances of outsized characters, this playful romp is hard to ignore and as much a testament to its time as 2001: A Space Odyssey, however much this testifies to a courser if truer side of human events.
Kevin M. Williams
Super Reviewer
A voracious bastard pursues his love - among others - in a satirical exploration of British class structure and sexual politics. Henry Fielding is sometimes credited with inventing the modern novel, and his works read like an experiment in a new form; in Joseph Andrews the narrator actually tells the reader to skip the boring parts. And in Tom Jones it is clear that this is a faithful adaptation if only because the spirit of experimentation pervades. It is a romp, full of baudy humor and high-energy ballyhoo. The characters even break the fourth wall a few times. But when I read Fielding, I often feel like I'm looking at a child's creation out of Play-Doh and other people expect me to see Rodin. I felt the same way about this film. Yes, I like the satire - the blood spewing from the horses, whipped too a frenzy by fanatical hunters, and the so-called "ladies of quality" acting more whorish than a Kardashian - but director Tony Richardson crosses the line between mad-cap romp with a purpose and mad-cap romp for romp's sake. The ending is too convenient, the behavior too extreme to be taken seriously, Tom Jones is a film made out of Play-Doh. Overall, even though its heart is the right place, I think the film strays too far into unreality to have any real effect.
Jim Hunter
Super Reviewer
Tom Jones Quotes
There are no approved quotes yet for this movie.