Tom Thumb
(1958)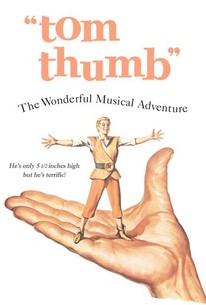 Movie Info
Producer/animator/special-effect maven George Pal made his feature-film directorial bow with the colorful MGM musical fantasy Tom Thumb (the title of the film was spelled in lower case in the opening credits, and in all studio publicity material). Russ Tamblyn stars as the teeny-tiny titular protagonist, while veteran musicomedy favorite Jessie Mathews and stellar character actor Bernard Miles portray Tom's normal-sized parents. Journeying to the Village, Tom is pounced upon by villains Ivan (Terry-Thomas) and Tony (a corpulent Peter Sellers), who intend to exploit our 5 1/2-inch-tall hero. In-between his misadventures with the villains, Tom helps to expedite the romance between young forester Woody (Alan Young) and the magical Forest Queen (June Thorburn). Throughout, the special effects and oversized sets are first-rate, as are the "puppetoons" sequences featuring such delightful characters as The Yawning Man (voice by Stan Freberg). Written by several hands, the film's songs are hummable, if not particularly memorable. It is said that some children in the audience in 1958 were genuinely frightened by the more horrific aspects of the story (including the threatened execution of Tom's parents); it may be, however, that the adults were more scared than the kids. Incidentally, while most of Tom Thumb was filmed in MGM's London facilities, the special effects were produced in Hollywood, requiring Russ Tamblyn to do a lot of travelling.
Audience Reviews for Tom Thumb
"Make way for the town lasher" A rich, vibrant musical fantasy based on the Brothers Grimm`s fairy tale that is delightfully fun to watch. Russ Tamblyn plays the diminutive boy Tom who comes to liven up the days of a childless middle-aged couple, a woodcutter and his wife who are granted three wishes by a very beautiful blonde fairy, the Forest Queen (June Thorburn). But then a pair of dastardly villains (played by Terry-Thomas and Peter Sellers) use the boy to steal some gold coins and his foster parents is accused of the theft. Now it`s up Tom Thumb has to save the day by exposing the real thieves. There is also a romantic subplot involving a local musician (Alan Young) who is in love with the immortal Forest Queen and doesn't realize that he can turn her into a mortal via a kiss. A terrific movie for kids to see! As for the adults, it is sure to appeal to the inner child in each of us! The Yawning man/song almost put me to sleep as well.....almost lol!
Tom Thumb Quotes
There are no approved quotes yet for this movie.