Tommy Boy
(1995)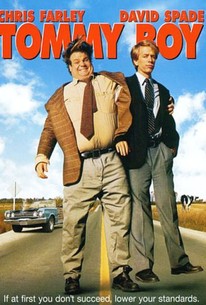 TOMATOMETER
AUDIENCE SCORE
Critic Consensus: Though it benefits from the comic charms of its two leads, Tommy Boy too often feels like a familiar sketch stretched thin.
Movie Info
Saturday Night Live star Chris Farley had his first starring role in this frankly lowbrow comedy, which teamed him with fellow SNL cast member David Spade. Big Tom Callahan (Brian Dennehy) is the street-smart owner of a company that makes auto parts, and one day he'd like his son Tommy Callahan III (Chris Farley) to take over the business. Trouble is, Tommy Boy is a fat, dim-witted slob who took seven years to get a business degree and has no idea how to run a business. His father's sudden death unexpectedly puts Tommy Boy in charge, with his dad's weasely assistant Richard (David Spade) trying to guide him. However, what no one knows is Big Tom's wife, the young and beautiful Beverly (Bo Derek), married him only for his money while holding on to her lover, Paul (Rob Lowe), whose presence she explains by telling people he's her son. Beverly and Paul are waiting for Tommy Boy to run the company into the ground so they can take over, sell it off and earn a quick payoff. However, what Tommy Boy lacks in smarts (and hygiene), he makes up for in determination, and he hits the road with Richard for a long sales trip in a last ditch effort to rescue his father's legacy. Tommy Boy was a major hit that turned Chris Farley into a screen star; sadly, died a little over 2 1/2 years later.
Critic Reviews for Tommy Boy
Audience Reviews for Tommy Boy
One of my favorite cult classic comedies! RIP Chris Farley
Tyler Christian
Super Reviewer
Tommy Boy is a classic, I will admit, but I have this thing about not even tring in a comedy, and this steals the cake. After slacker and moron Tommys (Chris Farley) father dies, he decides to take over the business, but to show he can do this job, he goes on a business road trip with long time aquaintance Richard (David Spade). But two con artists (Bo Derek, Rob Lowe) will stp at nothing to stop Tommy and gets his money from his failing company. First of all, who doesn't love Chris Farley, I mean we all miss him, admit it, and hes so funny. David Spade is okay, nothing you will die of laughter at. The jokes were good, and I laughed, but some were just so cheesy I couldn't help but shake my head. This film is an american classic, and even if I found Davids acting bad, and some jokes cheesy, this is a classic.
Jim Careter
Super Reviewer
½
Definitely one of my favorite buddy comedies and just one of those movies that never loses its ability to be funny, no matter how many times you've seen it. Chris Farley delivers his finest performance here as the lovable goofball everyone wanted to see him as. He's just so genuinely nice and incredibly stupid at the same time, but something of a borderline genius on top of that. Paired up with David Spade, it's like instant magic. Their chemistry together is so natural and the fact that their characters and comedic style are polar opposites is really interesting. Unlimited destruction occurs on their road trip, mainly to Richard's car, and it is what every comedy aspires to be. This is never short on jokes, has a fun storyline and great characters. You'd be crazy not to see why Tommy Boy is such an utter classic.
Conner Rainwater
Super Reviewer
Tommy Boy Quotes
| | |
| --- | --- |
| Tommy Callahan III: | Brothers gotta hug. |
| | |
| --- | --- |
| Tommy Callahan III: | No! Please! Ah god...son of a... |
| | |
| --- | --- |
| Richard: | Late again Tommy? |
| Tommy Callahan III: | Shut up, Richard! |
| | |
| --- | --- |
| Tommy Callahan III: | How do you know the guaranteed fairy isn't some crazy glue sniffer... He sneaks into your house once and that's all it takes. Next thing you know, there is money missing off your dresser and your daughter is knocked up! I've seen it a hundred times. |
| Tommy Callahan III: | How do you know the guaranteed fairy isn't some crazy glue sniffer. He sneaks into your house once and that's all it takes. Next thing you know, there is money missing off your dresser and your daughter is knocked up! I've seen it a hundred times. |