The Tommyknockers
(1993)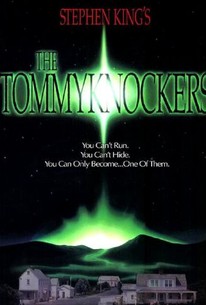 TOMATOMETER
AUDIENCE SCORE
Critic Consensus: Unlikeable characters, a bloated narrative, and drab scripting make The Tommyknockers a hard watch for even the most die-hard of Stephen King fans.
Movie Info
Adapted for TV, this is a Stephen King story in which an aspiring writer and an alcoholic poet (with a metal plate in his head, no less) literally stumble over a long-buried spaceship while walking in the woods. It starts glowing green when uncovered and soon everyone in town has green eyes, their teeth fall out and they act out all of their fantasies (violent or otherwise). Guess who's immune to the power of this alien spaceship? You got it--our good old metal-headed poet can save the day if he can get it together enough to do so. Really more of a B movie than most King horrorfests.
Critic Reviews for The Tommyknockers
Audience Reviews for The Tommyknockers
Based on one of Stephen King's sci-fi horror stories, this movie is very strange, but it stays within the sci-fi conventions well. I liked it, it was very interesting. If you like King, check it out.
½
I honestly don't know how many made for TV movies will have to be made before Stephen King realizes that it's a terrible way to translate his stories. I thought that the book was really interesting and a sort of ode to 50s sci-fi, War of the Worlds in particular. This is just a complete letdown, filled with a sub-par cast and terrible writing.
Conner Rainwater
Super Reviewer
½
Aside from the odd exception, Stephen King has rarely transfered well to the big or small screen, and along comes this little mini-series which is a by-numbers example of what actually gets lost in translation. Firstly: when these novels are adapted for the screen, fundamental elements of the plot are excised or replaced, and this is true of even the better King-flicks ("The Shining" and "Carrie" are just as guilty as pulp trash like "Needful Things" and "Cujo"). "The Tommyknockers" begins as if it's going to buck the trend, establishing the majority of the usual King misfits early on, and actually adds a little suspense by not showing its hand too early - for example, this adaptation does not make clear what's buried out back in Bobbie's farm straight away. But as the town begins to be affected by said item, it's off into it's own world, and toss the novel out the window. Granted, some of the more imaginative gimmicks the township dreams up cannot be translated to screen with the appropriate panache, especially with the meagre budget allocated to this project - but does everything need to look so cheap? Much of the dialogue at best doesn't ring true, at worse stinks. Witness the actually quite good Marg Helgenberger delivering some awful lines ("Gard, let's experience it together!") but in an offhand way that suggests that she's really aware that she's not in a Mamet play, but, Hell, let's make the best of it anyway. Any good points? Well, Joanna Cassidy is always worth watching, but an actress of her class still can't make a thrown together middle-age romance look realistic. Helgenberger and Allyce Beasley come out of it with the least mud sticking. Worst crimes? Jimmy Smits completely miscast, terrible dialogue, cheap effects, complete massacre of the source material, Traci Lords all at sea outside of a John Waters movie or skinflick ... the list goes on.
Cassandra Maples
Super Reviewer
The Tommyknockers Quotes
There are no approved quotes yet for this movie.