Tomorrow Is Forever
(1946)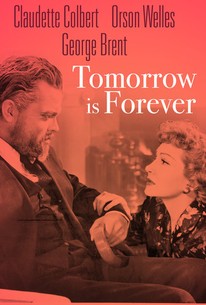 AUDIENCE SCORE
Critic Consensus: No consensus yet.
Movie Info
Tomorrow is Forever was adapted by Lenore Coffee from the novel by Gwen Bristow. The blissful marriage between John (Orson Welles) and Elizabeth (Claudette Colbert) comes to an abrupt end when John is listed as missing and presumed dead in WWI. After a respectable period of mourning, Elizabeth, now a single mother, marries chemical-plant executive Larry Hamilton (George Brent), by whom she has a daughter, Margaret (Natalie Wood, in her first major film role). Twenty years later, a refugee Austrian chemist named Erich Kessler is hired by Hamilton. Kessler turns out to be the long-missing John, now suffering from amnesia, his face completely reconstructed by plastic surgery. Upon ascertaining Kessler's true identity, Elizabeth is faced with the sort of devastating dilemma indigenous to glossy soap operas of this nature. The film's central conflict arises from John/Erich's opposition to his grown son Drew's (Richard Long) participation in WW2. At the time of the film's release, publicists for Tomorrow is Forever paid more attention to Claudette Colbert's 18 costume changes than to Orson Welles' virtuoso performance in what amounted to a dual role.
Critic Reviews for Tomorrow Is Forever
Audience Reviews for Tomorrow Is Forever
½
This film features Claudette Colbert, Orson Welles, and an 8-year-old Natalie Wood in her first credited role, as well as a script written just after WWII ended which addresses the question of going off to war. It's worth watching, but a bit melodramatic. The premise: Welles and Colbert are newly married, Welles surprises Colbert by deciding to go off to WWI, but then gets his face blown off. He's unknown and heavily bandaged in the hospital, and in his depression, doesn't want to correct the report back to his wife, which was that he was killed in action. Fast forward 21 years. Welles has been living in Vienna, but flees to America with a small child (Natalie Wood) after the Nazis have killed her parents. Meanwhile, Colbert has had the child he didn't know she was carrying when he left, and re-married (to George Brent). Naturally, Welles then inadvertently meets her and her new family. What first seems to be a story focusing on the pathos of seeing the love of one's life now living with someone else, quickly gives way to the stronger moments of the film, which center around their son (Richard Long) wanting to go off to war himself. Despite America not being involved yet, he reasons (with the benefit of a post-WWII script) that Hitler will not stop at Poland or even Europe, and that evil must be confronted. It's a compelling argument, and my favorite interchanges was this one, which are words to ponder even today, particularly that last line: Long: "I'm not sure what's it's all about, except that when I mentioned it a few minutes ago, about aggression and conquest..." Welles: "The Nazis call it a new order. Supermen and slave people. Actually just trying to bring back the Middle Ages. Trying to bring back the past." Long: "But why should anyone want to hold back the future?" Welles: "Because the whole idea of the future is a fuller, richer life for more people. These fellows are afraid that more for the many means less for the few." On the other hand, his mother is well aware of what war can do, having lost her first husband, and we really see the crux of the problem - when is war worth fighting? WWI had little meaning, but on the other hand, WWII threatens humanity. It's very difficult in the moment to understand which of these cases it may be. Sacrifice and honor are themes which pervade the film. This must have played well to audiences of the time, and the tragedies which result may tug on heartstrings today. Welles sacrifices his life to fight for his country, and then sacrifices his happiness so that his wife won't be burdened by his injuries. His son wishes to follow in his footsteps, and is so eloquent and rational. There is naturally a tragedy to this, heightened as Welles speaks to both, without them knowing who he is. Thomas Paine is quoted in the best of their conversations: "A man who kept a tavern was standing in his door, with as pretty a child in his hand, about eight or nine years old, as I ever saw. And after speaking his mind as freely as he thought was prudent, he finished with this unfatherly statement: give me peace in my day. Remember that's what Chamberlain said when he came back from Munich: 'peace in our time'. A more generous parent would have said, if there must be trouble, let it be in my day, that my child may have peace." Unfortunately there are several moments that strain credibility. Out of all the employers in Baltimore, Welles happens to get a job with the man who has married his wife. Ok, we'll give the film that one, as it sets up everything else. But how about Colbert not recognizing him at all, via his voice or his eyes? Ok, he was supposed to be tragically disfigured and needed plastic surgery, so let's give the film that one too. But then her reactions when she begins to suspect that he's indeed her first husband? The line "you're John MacDonald" is so false, as it seems to refer to a stranger - not "you're John!", "John, I know it's you!", etc. In a film that is so full of emotion, this moment and those that follow between the two of them don't feel authentic. In general, the acting in the film is rather staid, which in part reflects the stoicism of the time, but also just average performances, much as I like the actors. The film also lays it on rather thick as the story plays out, and it gets a little heavy-handed in the direction it takes. A mixed-bag, worth seeing, but falls a bit short.
Antonius Block
Super Reviewer
Nice little tear jerker with Welles and Colbert at the top of their game and little Natalie Wood Stealing every scene she's in. Well written and directed.
Anthony Valletta
Super Reviewer
Tomorrow Is Forever Quotes
There are no approved quotes yet for this movie.