Tomorrow We Move
(2003)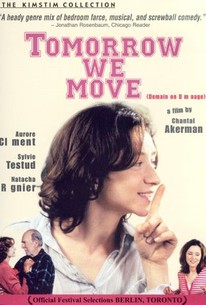 AUDIENCE SCORE
Critic Consensus: No consensus yet.
Movie Info
Director Chantal Akerman helmed this offbeat comedy about a mother and daughter who find themselves living together again for the first time in many years. Still reeling emotionally from the recent death of her husband, Catherine (Aurore Clément) has chosen to leave her old home and move in with her grown daughter, Charlotte (Sylvie Testud). While Charlotte is sympathetic, she's something less than enthusiastic; her mother's mood swings and the clutter of her collected belongings are cramping her home and her style, and when Catherine decides to revive her career as a piano teacher, the constant parade of youngsters bludgeoning the keyboard makes it all but impossible for Charlotte to complete her latest writing project. Catherine and Charlotte decide to look for more spacious living quarters, while Charlotte is also in search of her own office space. As a steady stream of prospective tenants check out their home, Charlotte makes friends with a pregnant woman looking for a new flat (Natacha Régnier), while her search for a space of her own brings Charlotte a relationship with a like-minded realtor (Jean-Pierre Marielle) and an unlikely collaborator in Michelle (Elsa Zylberstein), a poet who enjoys tinkering with Charlotte's prose.
Critic Reviews for Tomorrow We Move
Audience Reviews for Tomorrow We Move
½
With her mother(Aurore Clement) moving into her duplex after the death of her father, Charlotte(Sylvie Testud) soon realizes Paris, much less her apartment, is not large enough for the two of them, their furniture and her mother's grand piano from which she gives lessons. So, Charlotte has to go to a cafe to find it quiet enough to concentrate where instead she finds inspiration for the erotic story she has been commissioned to write. And that's also where she meets Samuel(Jean-Pierre Marielle), a realtor, who shows her a studio apartment that she cannot quite commit to. While the idea of Chantal Akerman making a screwball comedy sounds as weird as Spike Lee directing an episode of "Downton Abbey," the results with her movie "Tomorrow We Move" are actually pretty good as she pulls it off in fine style, keeping events basically moving throughout, especially in an epic open house sequence. It helps of course that she has the perfect actor, Sylvie Testud, to embody her character's neuroses in comic fashion. However, not everything is fun and games and unconventional family structures, as the past keeps rearing its head in an exploration of the fate of the European Jewish diaspora.
Tomorrow We Move Quotes
There are no approved quotes yet for this movie.