Too Late for Tears
(1949)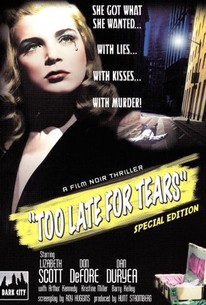 Too Late for Tears Photos
Movie Info
When Lizabeth Scott's Jane Greer husband Arthur Kennedy accidentally gets his mitts on $60,000 in stolen money, she insists that he keep the dough rather than turn it over to the authorities. Two-bit private eye Dan Duryea catches on to Scott's subterfuge, and demands that she turn the cash over to him. Scott persuades Duryea to split the money with her--then, determining that Kennedy might be too honest for everyone's own good, she murders her husband. To cover her tracks, Scott reports her husband as missing. This brings in yet another fly in the ointment: Don DeFore, the brother of Scott's first husband, who died under mysterious circumstances. The already knotted webs of intrigue become even more tangled before Scott's ironic comeuppance. Too Late for Tears was scripted by Roy Huggins, who later produced such TV detective series as The Rockford Files.
Critic Reviews for Too Late for Tears
Audience Reviews for Too Late for Tears
½
Lisabeth Scott as a lady whose first rule is "money is king" and whose second rule is "didn't you read the first rule?". Once you begin to understand that you feel sorry for anyone she meets because you know something life-changing that they don't. This noir has lots of caged tension going for it, and the Duryea/Scott changing dynamic/character arc is reason for paying the admission alone. Mmm ... good noir.
Kevin M. Williams
Super Reviewer
½
Solid noir with one of the more despicable femme fatales in the genre's history. Fortunately that succubus is played by Lizabeth Scott, one of the best purveyors of silky villainy the genre ever had.
½
wow what a performance by lizabeth scott! well she's a little less wooden than usual anyway. mild mannered housewife morphs into psychotic killer when a suitcase full of cash lands in her car. it's a shame this film isn't better known. it's public domain and not in the best condition. there were some really abrupt cuts in the version i saw. i hope this gets a restoration one day. lizabeth deserves it!
Stella Dallas
Super Reviewer
Too Late for Tears Quotes
There are no approved quotes yet for this movie.