Tooken
(2015)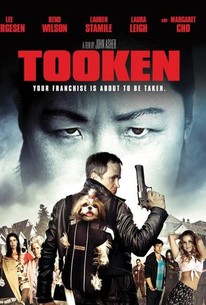 AUDIENCE SCORE
Critic Consensus: No consensus yet.
Movie Info
Spoof of the "Taken" franchise. An ex-CIA agent who is now a mall- security guard discovers that things are being taken from him. He must team up with his mom, also an ex-CIA agent, to defeat his rival and save his family.
Critic Reviews for Tooken
All Critics (1) | Fresh (0) | Rotten (1)
It is not funny at all and as the film progresses, it is increasingly common to provoke embarrassment for it. [Full Review in Spanish]
Audience Reviews for Tooken
½
H-I-L-A-R-I-O-U-S, Tooken was HILARIOUS!!! Other then a few of the Scary movies, I haven't seen a spoof movie that was funny in awhile.I honestly expected Tooken to suck but it didn't suck at all.I don't understand why garbage movies like Date Movie, Superhero Movie, Epic Movie, etc, etc, etc, made it to theaters but a spoof movie that was actually funny like Tooken didn't.I hope John Asher will direct more spoof movies & this won't be his last.Since Tooken is a spoof of Taken & there's 3 Taken movies, I think it would be hilarious if there were a couple Tooken movies.I don't see it happening but I can hope.My only complaint about the movie would have to be Margaret Cho.She was the only thing about Tooken I didn't find funny.I can think of a couple actors who would've been better then her as the big boss.It seemed like John Asher owed her a favor or 2 so he cast her in the movie.
Brody Manson
Super Reviewer
Tooken Quotes
There are no approved quotes yet for this movie.