The Tooth Fairy
(2006)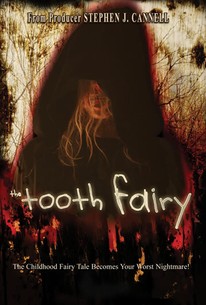 Movie Info
As maestro TV producer Stephen J. Cannell's latest foray into feature work, The Tooth Fairy represents the latest direct-to-video entry in an unofficial series of slasher films that resurrect friendly characters in a horrific vein -- from the 1997 Jack Frost to the 2005 Gingerdead Man. This particular outing begins with the legend of a woman known as "The Tooth Fairy," who lures unsuspecting children to her home with promises of gifts in exchange for their lost teeth, and then butchers them. The film implies, at its outset, that the homicidal slayer is long gone -- and that her home is being converted to a cozy bed and breakfast. Everyone believes the story -- until a young girl and her mother check into the inn. The child happens to be on the verge of losing a tooth, and all hell breaks loose. Chuck Bowman (A Kiss So Deadly) directs, from a teleplay co-authored by Cannell and Corey Strode.
Critic Reviews for The Tooth Fairy
Audience Reviews for The Tooth Fairy
This is a very disturbing movie. The opening scene I thought was just a little too much...and the part where she chops off his penis was a little too much too. The blood\gore is very common in this movie, especially from the children. There are very bloody\graphic\painfu parts in this film, but it is a very good movie and has a very creepy\eerie story.
Jacob Palacio
Super Reviewer
Simply loved it! Something so innocent can be twisted and protrayed to be so gruesome.
paganchild1979 pc79
Super Reviewer
Not a half bad movie actually. Seeing the cover I thought it was going to be pretty crappy, and to a small degree it was crappy but not as crappy as let's say Necronomicon or Beyond the wall of sleep. It also has a sense of humor so you're not thinking that the movie takes itself too seriously because it doesn't. This movie is what it is and if you're expecting any more (or any less for that matter) you're fucked. It has quite some blood and gore, it's not too realistic but hey I enjoyed it for 80 some odd minutes.
Jesse Ortega
Super Reviewer
The Tooth Fairy Quotes
There are no approved quotes yet for this movie.