Top Hat
(1935)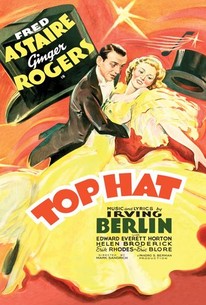 TOMATOMETER
AUDIENCE SCORE
Critic Consensus: A glamorous and enthralling Depression-era diversion, Top Hat is nearly flawless, with acrobatics by Fred Astaire and Ginger Rogers that make the hardest physical stunts seem light as air.
Movie Info
One of the best of the Fred Astaire-Ginger Rogers musicals, Top Hat centers on a typical mistaken-identity plot, with wealthy Dale Tremont (Rogers), on holiday in London and Venice, assuming that American entertainer Jerry Travers (Astaire) is the husband of her friend Madge (Helen Broderick) -- who's actually the wife of Jerry's business manager Horace Hardwick (Edward Everett Horton). Complicating matters is Dale's jealous suitor Beddini (Erik Rhodes), whose motto is "For the woman the kiss -- for the man the sword." Beddini is disposed of by some last-minute chicanery on the part of Jerry's faithful valet Bates (Eric Blore), paving the way for the happy ending everyone knew was coming from the opening scene. The Irving Berlin score includes "Cheek to Cheek," "Isn't it a Lovely Day?," and the jaunty title song. The charisma of the stars, the chemistry of the supporting players, the white-telephone art direction of Van Nest Polglaise, the superlative choreography by Astaire and Hermes Pan, and the effervescent direction of Mark Sandrich all combine to make Top Hat a winner. Originally released at 101 minutes, the film was for many years available only in its 93-minute reissue form; it has since been restored archivally to 99 minutes.
Critic Reviews for Top Hat
Audience Reviews for Top Hat
"Heaven, I'm in heaven". The fourth film to pair up legendary duo Fred Astaire and Ginger Rogers, "Top Hat" features some legendary songs by Irving Berlin ("Top Hat, White Tie and Tails", and "Cheek to Cheek") and some very charming dance sequences by the two stars. When Horace and Madge (Edward Everett Horton, Helen Broderick) seek to set up their two friends on a date, the woman, Dale (Rogers) mistakes Jerry (Astaire) for Madge's husband, Horace. As Jerry woos Dale, she can only resist as a good friend should when said friend's husband is making plays for her. Dale's friend, Alberto Beddini is a fashion designer with eyes on his model, but she doesn't take him seriously. Then there's Bates, the butler of Horace who always refers to himself as a small group ("we will take your hat for you, sir") and lives to antagonize his boss. It's a light romantic comedy to be sure, but between all the nonsense there's some amazing dance numbers. There's something so familiar to the Astaire/Rogers asthetic that it may as well be ingrained in our collective subconscious. It is elegance and class personified, a depression-escaping fantasy to be sure, but it is beauty and art, both basic and complex. That these two still resonate so deeply within our hearts and minds, nearly eighty years later, is a testament to just how great they really were.
Devon Bott
Super Reviewer
Probably a classic in it's genre, but this rating is purely based on my personal taste. The balance between movie and music is excellent, the chemistry between Fred and Ginger is great. But I just didn't feel it. The decor and the clothing were hideous, and the movie a little too theatrical for my taste. This is my first and probably my last dance movie.
This is a funny movie of mistaken identity, starring Fred and Ginger, and including some dance numbers as usual, but I liked the comedy best.
Top Hat Quotes
| | |
| --- | --- |
| Bates: | Where do you want it, sir? |
| Horace Hardwick: | Want what, Bates? |
| Bates: | The steak, sir. |
| Horace Hardwick: | On my eye. |