Top Secret Affair
(1957)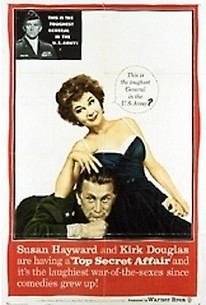 AUDIENCE SCORE
Critic Consensus: No consensus yet.
Movie Info
When an Army general is appointed to the sensitive diplomatic post that the powerful publisher of a prominent news magazine had hoped would go to a particularly qualified civilian, she launches a vitriolic campaign to discredit the general. First the publisher orders one of her cameraman to snap a few incriminating photographs of the general. In order to get them, she invites the general out for a night on the town. No matter how hard she tries to get him drunk, the general remains sober. Unfortunately, she ends up quiet tipsy and falls in a pool where she nearly drowns until the general rescues her. The sodden but grateful publisher kisses him and it is at that point that they realize that animosity is rapidly turning to love, at least for her. When she discovers that her newborn love is fated to remain unrequited because of things from the general's past, the jealous publisher pens a poisonous article about him. This creates all kinds comical obstacles and further misunderstandings.
Critic Reviews for Top Secret Affair
Audience Reviews for Top Secret Affair
½
Cute, fluffy comedy starring two actors not usually associated with the genre. Susan is the take charge magazine owner trying to bulldoze Kirk's Army general, they are well matched and their charisma adds a lot to this slight bit of whimsy. Unmemorable but made pleasant by two great stars. Paul Stewart and Jim Backus add to the film's enjoyment with expert performances.
Top Secret Affair Quotes
There are no approved quotes yet for this movie.