Topaz
(1969)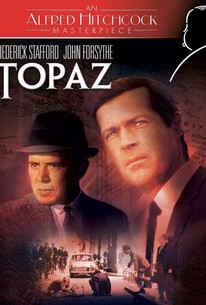 Movie Info
Filmed on locations ranging from Denmark to the Universal backlot, Alfred Hitchcock's Topaz is based on a novel by Leon Uris. Frederick Stafford, a veteran of European-filmed James Bond rip-offs of the 1960s, is cast as Andre Devereaux, a French secret agent assigned to snoop around Cuba in the months prior to the 1962 missile crisis. Someone is supplying Castro -- and, by extension, Moscow -- with NATO secrets; it is up to Devereaux to liquidate the "mole." Aiding Devereaux is CIA agent Nordstrom (John Forsythe) and aristocratic anti-Castro Cuban Juanita (Karin Dor), who happens to be the girlfriend of pro-Castroite Rico Parra (John Vernon). The director seems to be in awe of the fact-based storyline, and as a result, the film is more cut-and-dried than most Hitchcock efforts. Three different endings were filmed for Topaz; the Laserdisc version carries all three, as does the print available to the American Movie Classics cable service. According to the MPAA, the film was originally rated M but later changed to PG; however, a number of home-video issues of Topaz officially list it as "Not Rated."
Audience Reviews for Topaz
½
I had heard that, among the lesser films of Hitchcock's filmography, this was basically the bottom of the barrel, and you know what? That's not completely wrong. Now, it's not a terrible film per se, but it certainly doesn't have a lot going for it. The plot is the old Cold War spy intrigue/mole hunt sort of thing, with emphasis on a French operative diving into Soviet and Cuban dealings around the time of the Cuban Missle Crisis. The storyline is heavily fact based, and as a result, is pretty cut and dried, and not really as compelling as it should be. It doesn't help that Hitch made a lot of films like this already, most of them better, and ones I saw before this one. Even though it has ties to reality, the film is dull, not engaging, and kind of a bore. I really didn't care what was happening most of the time, and that's really not a good sign considering the film's long running time. The film's not all bad though. It has a lot of merit from a technical standpoint, with some good locations, sets, and camerawork. Maurice Jarre's score is also really good, and probably the film's highlight, aside from the film scene Karin Dor is in. Speaking of actors, this could probably have benefited from some serious star power. That wouldn't be a guarantee that it would've helped, but you never know. I do think the highlight as far as acting goes to John Vernon, and his portrayal of a Cuban revolutionary is both bewildering and awesome. I t probably wouldn't fly today, and, while I'm not sure why they got a Canadian to play a Cuban, I won't complain either, as I think Vernon was a solid character actor. All in all, the film is just kinda 'meh'. I mostly just think the film falls because it all feels very routine and phoned in. Of course, when you're Hitchcock, I guess it's okay to not be on the top of your game all the time...even though it happened to him a few times, especially during the latter years. See it if you want, but just know that its reputation is pretty true.
Chris Weber
Super Reviewer
½
Hitchcock most European film is very interesting look at the Cold War.
Graham Jones
Super Reviewer
½
For the most part this movie is incredibly dull, and deals with politics, war, and spies. Although Hitchcock has done spy movies before, none were ever as boring as this one. And where did he find his cast? I don't think I've heard of anyone in this cast list before. It was an interesting idea to not use the same stars he'd been using before, but none of them really stand out as great actors you'd like to see again. The story too is unknown, I mean we do find out what Topaz is, but then we don't get a very clear ending, and we wonder why everything we saw happen happened. Overall, not a good movie, but it could've been worse, at least there were a few action packed scenes.
Topaz Quotes
| | |
| --- | --- |
| Boris Kusenov: | He would never take it from an American. [Pause]. Now that I have given you this information, what are you going to do with it? |
| Boris Kusenov: | He would never take it from an American. Now that I have given you this information, what are you going to do with it? |
| | |
| --- | --- |
| American Official: | Does he hate American money? |
| | |
| --- | --- |
| Michael Nordstrom: | He hates Americans. His son was killed at The Bay of Pigs. |
| | |
| --- | --- |
| Boris Kusenov: | I have used him. But he is of no use to you. |