Topkapi
(1964)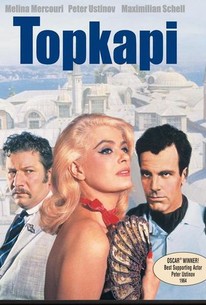 Movie Info
After years of enduring movie lampoons of his 1955 crime-caper classic Rififi, director Jules Dassin topped them all with his own spoof, Topkapi. It's a rather disreputable crew that teams for the elaborate jewel theft masterminded by Maximillian Schell. Sexy Melina Mercouri (Mrs. Dassin) is probably the best of the batch: the others are faffling Robert Morley, unreliable Gilles Segal and Jess Hahn. Bumbling Peter Ustinov (who won an Oscar for his performance) is duped into helping the thieves, and soon finds himself uneasily straddling both sides of the law. As in Rififi, the theft itself (taking place in Istanbul's Topkapi Palace museum) is played out in near-complete silence. We won't tell you how the crooks are foiled; just be advised that money flies out the door when something else flies in the window. Topkapi was based on The Light of Day, a somewhat more somber novel by Eric Ambler. ~ Hal Erickson, Rovi
News & Interviews for Topkapi
Critic Reviews for Topkapi
Audience Reviews for Topkapi
½
A group of thieves recruit a bumbling fool in their quest to steal a dagger from a museum. In the tradition of Ocean's Eleven this is a decently plotted heist film. There are a few plot twists that give the script a clever feel, but it's pretty basic. The best part of the film is Best Supporting Actor Oscar-winner Peter Ustinov who makes us both pity and sympathize with Arthur Simpson. Sometimes he's too dumb to know better, and other times he's just clever enough to make him likable. I didn't like the film's style; the opening credit sequence reminded me of an Adam West Batman fight, and Melina Mercoun's performance as Elizabeth Lipp quickly annoyed me; she's the drunk girl in the bar who can go home with anyone else but me. Overall, Topkapi is light and sometimes fun but innocuous.
Jim Hunter
Super Reviewer
Arthur Simon Simpson: It's not a question of losing my nerve; I never *had* nerve! A fine heist flick from a man who is pretty much one of the masters of the genre. The film is fairly breezy, taking a plot that would now seem familiar and combining it with the fun of a team consisting of a number of types, all leading up to a great climax involving the heist itself. Professional jewel thief Elizabeth Lipp (Melina Mercouri) reunites with her former lover and partner Walter Harper (Maximilian Schell) for the score of her life - the theft of an exquisite jeweled dagger from the Topkapi museum in Istanbul, Turkey. Also involved is a small-time con-man, Arthur (Peter Ustinov) with passport problems, who gets mixed up with this gang of world-class jewelry thieves. Turkish intelligence, suspecting arms smuggling, become involved, and, under pressure, Arthur rises to heights he'd never dreamed of. The film was directed by Jules Dassin, a filmmaker known for making many noir films during his lifetime, including on of my favorites and a just a fantastic film all around - Rififi. That film was famous for, among other reasons, its fantastically filmed heist sequence. In this film, Dassin once again has a showcase heist sequence that is fantastically well filmed, managing to be plenty tense, wonderfully staged, and fulfilling of all the other requirements this sequence would need. It's also nice to note that not only did this film inspire the original Mission Impossible TV series, but the heist in this film clearly influenced the eventual movie remake. Before getting the the heist sequence, the rest of the film is pretty light and fun. Ustinov is basically our main guy, a man in over his head, working to try and keep his head above water, as he balances his activities with both the investigators and the thieves. The rest of the cast is clearly having fun, as they are all just playing the basic stock heist movie character types. Watching the familiar beats of the team assembling the various aspects of the heist is fine, but it's do to the tone of the film that it all works for the most part. Another great aspect of this film is it's setting. Being set in Turkey, the scenes where we are made very aware that they are on location are great to see. The heist itself takes place at a famous building, but other wide shots and a sequence involving the large scale wrestling matches are a nice site as well. Not as much a classic as other older heist films, this is still one that clearly helped in paving the way for future ones and it is still a solid watch. Maj. Ali Tufan: What made you suspect they are Russian spies? Arthur Simon Simpson: I deduced it, sir. Maj. Ali Tufan: From what? Arthur Simon Simpson: From the cook, sir. Maj. Ali Tufan: What did the cook say? Arthur Simon Simpson: That they were Russian spies. Maj. Ali Tufan: A clever deduction.
Aaron Neuwirth
Super Reviewer
½
I didn't like this movie much. The dagger heist was interesting, and the forerunner of many current heists like the Ocean series. But the rest of the movie seemed pointless, and I found it amazing that Peter Ustinov won an Academy award for this movie.
Topkapi Quotes
There are no approved quotes yet for this movie.