Topper Returns
(1941)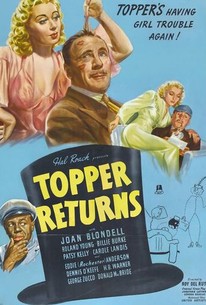 Movie Info
The third of producer Hal Roach's Topper films, this entry stars Roland Young as banker Cosmo Topper, who gallantly offers a lift to pretty hitchhikers Joan Blondell and Carole Landis. Blondell and Landis are en route to a chilly old mansion, which is populated by all manner of sinister types.
Critic Reviews for Topper Returns
Audience Reviews for Topper Returns
There's no Cary Grant in this the third installment of the popular horror/comedy series, but Roland Young returns as the ever put upon and flustered Topper again though, this time trying to Charlie Chan solve a murder. Along for the ride is Billie Burke as his shrill and nonsensical Gracie Allen-ish wife and Eddie " Rochester" Anderson (on "loan" from Jack Benny) as his easily rattled chauffeur ( who only has to "bugeye" his way through the whole picture). Joan Blondell is the real star. Now is there a haunted house anywhere? Goofy fun.
Kevin M. Williams
Super Reviewer
½
Cast: Joan Blondell, Roland Young, Carole Landis, Billie Burke, Dennis O'Keefe, Patsy Kelly, H.B. Warner, Eddie Anderson, George Zucco, Donald MacBride Director: Roy Del Ruth Summary: Roland Young returns as Cosmo Topper in the third and final film (following 1937's Topper and 1939's Topper Takes a Trip) in the highly popular comedy series. This time around, Joan Blondell is the ghost, and Topper helps her rest in peace by finding her murderer. My Thoughts: "I unfortunately have only seen the third film in this series, but I hope to see the first two cause this film was a delight. Very funny and silly with a great fun cast. Billie Burke, was quite funny and had the best one-liners along with Eddie 'Rochester' Anderson. Great old film. Give it a chance if these are not your type of films."
♥˩ƳИИ ƜѲѲƉƧ♥
Super Reviewer
Just as funny as the first, and a vast improvement over the first sequel.
Anthony Valletta
Super Reviewer
Topper Returns Quotes
There are no approved quotes yet for this movie.