Torn Curtain
(1966)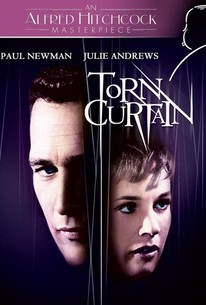 Movie Info
A double agent has to contend with enemies on both sides of the political fence as well as the woman he loves in this thriller directed by Alfred Hitchcock. Prof. Michael Armstrong (Paul Newman) is an gifted American physicist who, at the height of the Cold War, decides to defect to East Germany. To his surprise, his fiancée, fellow scientist Sarah Sherman (Julie Andrews) follows him, and she soon discovers Armstrong is no traitor, but acting as a secret undercover agent. As Armstrong attempts to ingratiate himself with political and scientific factions in East Germany, Gromek (Wolfgang Kieling) becomes his guide, though Armstrong is aware he's a government agent assigned to trail him, and as he tries to shake Gromek, Armstrong realizes his new "friend" knows what his real agenda happens to be. Torn Curtain was one of the rare Hitchcock films from his "classic" era which did not feature a score by Bernard Herrman; due to objections from his studio, Hitchcock removed Herrman from the project, though excerpts from the score he had begun were included as a bonus on the film's DVD release in 2002.
Critic Reviews for Torn Curtain
Audience Reviews for Torn Curtain
½
Coming out after the essential flop that was Marnie, Hitch delivered once again a troubled movie that also basically flopped, and that film is this: his 50th feature. And this film really did have a troubled production. Half of the budget was spent securing Paul Newman and Julie Andrews in the lead roles, and they weren't Hitch's choices, but ones appointed by the studio. It didn't help that Hitch and Newman didn't get along all that well either. Bernard Herrmann was supposed to do the score, and fragments of it can be experienced as a dvd extra, but the studio opted for someone else, someone who could give a somewhat more upbeat score, and this essentially led to Herrmann never working with Hitch again. On top of that, the film was originally supposed to be a psychological drama told from the perspective of Andrews's character, but instead was turned into just another Cold War espionage thriller. Even Hitch called this his least enjoyable work of his own. With all that out of the way, I now give my review. While the film really isn't that good, it's not really terrible, just nothing new and generic. Despite being overlong drawn out, and uninspired, It is well shot, and the music is okay, as are the fine, albeit unspectacular performances. The Hitch cameo is quite amusing, but the real highlight of the movie is a scene that depicts just how difficult it can sometimes be to murder someone. Despite being generic, this film still manages to be quite suspense and intense at times, and that's really impressive. All in all, this film might be a low point, but it's not a truly colossal mess, though I don't recommend it unless you're a completist.
Chris Weber
Super Reviewer
½
It has the feel of any Hitchcock film but seems empty. With Paul Newman starring as the new Cary Grant, you still have a strong protagonist but the story seems to fall flat at some point. It might be during the second half when desperation is at its best and the audience has to be put in a very uncomfortable situation. For any fan of the director, its still a passable entry but wont meet the high tier of films like Saboteur or North by Northwest.
½
Though it is a minor work for Hitchcock, this one still features many great moments and in my opinion is a huge step up from the two films before it.
Graham Jones
Super Reviewer
Torn Curtain Quotes
There are no approved quotes yet for this movie.