Torrente: The Dumb Arm of the Law
(1998)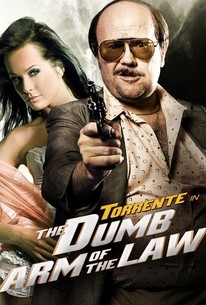 AUDIENCE SCORE
Critic Consensus: No consensus yet.
Torrente: The Dumb Arm of the Law Photos
Movie Info
In his first hilarious misadventure, former cop Torrente (Santiago Segura) hopes to win the attention of his sexy and beautiful neighbor by taking her nerdy cousin, Rafi, on his nightly crime-fighting patrols. Soon Torrente begins to suspect that a band of drug dealers is operating out of a local Chinese restaurant. With the help of Rafi and his equally inept friends, Torrente sets out to crack the case. (c) Doppleganger
Critic Reviews for Torrente: The Dumb Arm of the Law
There are no critic reviews yet for Torrente: The Dumb Arm of the Law. Keep checking Rotten Tomatoes for updates!
Audience Reviews for Torrente: The Dumb Arm of the Law
½
So it turns out that the first Torrente film was only a slight improvement over the second one. It's almost impossible to believe, but the Torrente character is tamer in the second film than he is in this one. I think this movie, as a whole is better than the second one, but the Torrente character is even more of a detestable sleazebag without any redeeming qualities. The problem with this characterization, however, is the fact that it feels more like an attempt to shock, which I'm sure is what Santiago Segura was going for, than it is an actual fully-formed character. It just feels like a collection of the grossest, meanest, horrific things Santiago Segura could put on screen. There's this one really disgustingly racist dream sequence, which even I think crossed the line of bad taste, where Torrente, who hates black people, is surrounded by a group of them. To make his escape, he gets out a piece of steak, he shows it to them and throws it away and the guys go after the piece of meat as if they were animals. Honestly, I'm a guy who's up for absolutely next to anything when it comes to comedy, nothing is sacred to me, but this felt more mean spirited as opposed to actual satire. It works for who the character is, but it was in very poor taste. I mean, the visual of it, got a chuckle out of me, but I'm ashamed of myself for actually laughing at it. It was just unexpectedly shocking. And, much like I said for the Mission in Marbella review, I appreciate the fact that the character doesn't shy away from the taboo subjects just because it might hurt some feelings. Sometimes the truth hurts and satire can really showcase these truths better than other genres of films, so I believe it also highlights how ugly some people's racism can truly be. But this isn't satire the quality of Dr. Strangelove. I wouldn't even call this a satirical film, at all, it just a collection of the meanest shit that can be put on screen. I'd have no problem with it, if the film actually had a reason for all of this to happen, but there's no reasoning behind it. It's just cause they can. Perhaps if there was a reason for Torrente's behavior being the way it is, then the films might be better, but it just feels like raunchy comedy for the sake of it and not because it actually requires it. The story is pretty awful and the writing could've been better, but it mostly relies on the curse words to be the punchline, rather than a well-thought out joke. Out of the two Torrente films I've seen, Mission in Marbella being the second one, this is easily the best. It's still pretty bad all things considered, but at least it's better. This made me wanna watch Michael Hazanavicius' excellent OSS films than continue on with this franchise. The two franchises aren't comparable, but that's satire, of the James Bond and spy genre in general, the way it should actually be done. Not this. Pretty bad film right here.
Jesse Ortega
Super Reviewer
A terrific Santiago Segura performance is wasted in this crass, juvenile, cheerlessly offensive piece of crap.
Torrente: The Dumb Arm of the Law Quotes
There are no approved quotes yet for this movie.