Total Eclipse
(1995)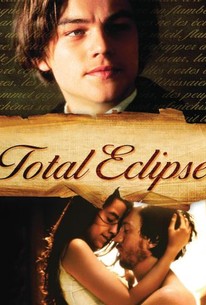 Movie Info
This historical drama, directed by Agnieszka Holland, focuses on the rocky relationship between the renowned 19th century French poets Arthur Rimbaud and Paul Verlaine. Rimbaud (Leonardo DiCaprio) is a teenage wunderkind known for his rebelliousness against conventional society and his surrealistic writing. He disrupts the life of Verlaine (David Thewlis), a more conventional writer who is older and married to a dutiful young wife, Mathilde (Romane Bohringer). The drunken Verlaine is unkind to Mathilde, even though her father is providing him with a house and an income to live on while he pursues his writing. Rimbaud overwhelms Verlaine, mocking his conventionality, constantly disrupting his domestic life, and somehow attracting the maniacal love of the older man.
Critic Reviews for Total Eclipse
Audience Reviews for Total Eclipse
Opening credits go on way too long, there is some vacany in the story's execution and the film also slips to some other lows. Still, DiCaprio is, get this, phenomenal. I know, czazy isn't it? He is also hilarious comic relief, which really is shocking when you consider how serious of an actor he is, Academy. There are also some other great performances, good lines for DiCaprio, I hate to admit it, but excellent chemistry between Thewlis and DiCaprio and other high points that could have made it a much more solid film, had the story been delivered better. Still, it is an interesting film that's fairly worth checking out.
Cameron Johnson
Super Reviewer
A young Leonardo...already an outstanding actor. He absolutely stole this film as his own even at such a young age. I love period dramas, and biographical dramas, so this movie was just perfect for me. Leo portrays a supposedly true-to-life strange and crazy poet in this movie. I can't imagine anyone doing a better job than he did. Very interesting film.
Cynthia S.
Super Reviewer
David Thewlis is such a horrible actor that it destroyed this movie. This was a great performance for Leonardo DiCaprio and I feel his portrayal was the only interesting thing about the movie. Even with getting to see Leonardo naked a few times... I still cannot recommend the movie. Seeing Leonardo shine as an actor may only be because of the poor acting of co-stars!
Thomas Johnston
Super Reviewer
Total Eclipse Quotes
There are no approved quotes yet for this movie.