Total Recall
(1990)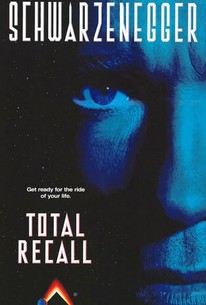 TOMATOMETER
AUDIENCE SCORE
Critic Consensus: Under Paul Verhoeven's frenetic direction, Total Recall is a fast-paced rush of violence, gore, and humor that never slacks.
Movie Info
In Paul Verhoeven's wild sci-fi action movie Total Recall, Arnold Schwarzenegger plays a 21st-century construction worker who discovers that his entire memory of the past derives from a memory chip implanted in his brain. Schwarzenegger learns that he's actually a secret agent who had become a threat to the government, so those in power planted the chip and invented a domestic lifestyle for him. Once he has realized his true identity, he travels to Mars to piece together the rest of his identity, as well as to find the man responsible for his implanted memory. Verhoeven has created a fast, furious action film with Total Recall, filled with impressive stunts and (literally) eye-popping visuals. Though the film bears only a passing resemblance to the Philip K. Dick short story it was based on ("We Can Remember It For You Wholesale"), the movie is an entertaining, if very violent, ride. ~ Stephen Thomas Erlewine, Rovi
Critic Reviews for Total Recall
Audience Reviews for Total Recall
Get ready for the ride of your life. cause like, theres gonna be more rides, definitely, like driving your car everyday to work and Burger-Kings and, you remember the night at the carnival when you really wanted to kiss that Tiffany chick like super, and you bought tickets for the ferris wheel and she didn't even talk til you were to the very top. and now that i think of the title, it reminds me when i was calling her around midnight after halloween and she kept sending me to voicemail, but i didn't leave no message cause i aint no stalker, and i knew she forwarded me to voicemail too, the cunt, cause it only rand two and a half times. and i like, kept calling and calling but nothing. that was such a total recall. and what a total skank. and so Schwarziniggers fuckin this broad who looks like Sharon Stone and he gets all pussy-like and turns her over sideways and looks teary talkin bout how he aint never been to mars. fuck him. i aint been neither. i aint probably even seen movies about mars, but id be happier with tonsils grindin on Sharon Stone clit than a fucking red planet with not even enough water to drench her pussy back to full health after im done with it. and then he goes to his therapist and tells him he has dreams of running around on mars and Dr. Kats is like, "if you wanna go to mars, set up an appointment. but hes like, "fuck that" and machine guns more people than i've seen have sex in my life and then after he gets there, Urkle with a laser pointer drives him to mars bars in a fag cab. and this chick with three beautiful muffin bags and Schwarzinigger don't even suck one. anyway she gets shot and milk is spilling on the highway drowning possums and shit. but the capper is the guy in the mars lab basement talkin about "the key to quenching martians thirst is the red water" and he pulls up his shirt and this blackhead on his chest got so big that its letting out air at a speed where it sounds like words. that made me laugh and i was reminded of deaf retard #2 from The Ringer when he was trying to call for help.
Coxxie Mild Sauce
Super Reviewer
The most surrealistic, awesome, complex, gory, funny movie that Schwarzenegger has ever starred.
Lucas Martins
Super Reviewer
½
Loosely inspired by one of Philip K. Dick's stories, this is a superb sci-fi action thriller set in a dystopic 2084 about a construction worker named Quaid who decides to go on a 'vacation' by having memories of a secret agent fantasy implanted into his brain, only for things to go horribly awry...or maybe not. Despite a few silly and cheesy moments, this is a wonderful, if violent action thriller that is both entertaining, and rather thought provoking. It really toys with that oft-used concept of blurring the line between what's real and what isn't, and this is one of the few films that actually does it quite well, with enough evidence to support multiple theories, with the true ending of the film dependent upon each viewer's own opinion. Like many of Verhoeven's American films, it's got a lot of violence, but provides a lot of thought provoking ideas and material, often satirical, as well. It's all presented with some groundbreaking special effects (almost all of them done practically or in camera as opposed to CGI), a terrific score by Jerry Goldsmith, and some decent, if sometimes silly, but still fun performances. And let's not forget about the most memorable thing this film has to offer: a three-breasted mutant prostitute! Definitely give this one a watch. It's not flawless, but it is remarkably strong, and easily one of both Verhoeven and Schwarzenegger's best films.
Chris Weber
Super Reviewer
Total Recall Quotes
| | |
| --- | --- |
| Johnnycab: | Hope you enjoyed the ride. |
| | |
| --- | --- |
| Fat Lady: | Get ready for a surprise! |
| | |
| --- | --- |
| Doug Quaid: | Get your ass to mars. |
| | |
| --- | --- |
| Doug Quaid: | Where am I? |
| Johnnycab: | You're in a Johnnycab. |
| Doug Quaid: | How did I get in here? |
| Johnnycab: | I'm sorry. Would you please rephrase the question? |