Totally Awesome
(2006)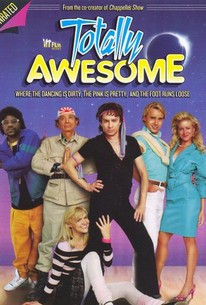 AUDIENCE SCORE
Critic Consensus: No consensus yet.
Movie Info
Chappelle's Show writer/producer/director Neal Brennan makes his feature directorial debut with this retro-minded comedy purported to have been produced in the 1980s but never released until 2006. As the Gunderson family sets out on a cross-country road trip to their new home, boyishly handsome Charlie (Mikey Day), blossoming dancer Lori (Dominique Swain), and highly intelligent Max (Trevor Heins) all have their own ideas of what life will be like in their new town. When Charlie is singled out as the least popular senior on the very first day of school, kindly outcast Billie (Nicki Clyne) amiably agrees to show him the ropes and provide him with an illuminating crash course in the clique system. Meanwhile, Lori is shocked to discover that dancing has been banned in her new town and the only place to cut loose is at the clandestine dance sessions held in the garage of current janitor and former dance instructor Gabriel (Chris Kattan). Immediately forbidden from attending the highly secretive shindigs, Lori stealthily sneaks out to be with the kindly Gabriel as her feelings for the dance instructor grow and the pair set into motion a clever plan to usher in a new era of dancing around town. When Charlie vows to win the heart of popular girl Kimberly (Brittany Daniel) by competing against her athletic boyfriend, Kipp (Joey Kern), in the upcoming school decathlon, lovelorn Billie quietly pines for the clueless newcomer from afar as he begins a rigorous training regiment with Japanese gardener Yamagashi (James Hong). As his family struggles to adjust to their new life, reclusive genius Max continues working on a highly advanced home computer that soon draws the attention of the CIA.
Critic Reviews for Totally Awesome
Audience Reviews for Totally Awesome
I tried to get into this but so stupid. lol
Words fail me on how bad this actually was. However, if you are an 80's movies fan as I am, you will probably still enjoy picking all the 80's movies it rips off and looking at the fashions!
Nicki Marie
Super Reviewer
Totally Awesome Quotes
There are no approved quotes yet for this movie.