Totally Baked: A Pot-u-mentary
(2007)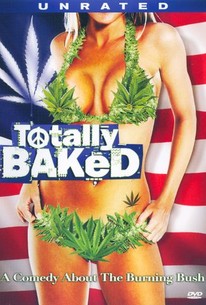 AUDIENCE SCORE
Critic Consensus: No consensus yet.
Totally Baked: A Pot-u-mentary Photos
Movie Info
Director Lee Abbot takes a satirical look at the stereotypes and mythologies of marijuana in this satirical mockumentary following a father who is forced to speak honestly with his daughter about pot, and a pro-pot advocate who hatches an ingenious plan to change the way America views weed. Thirty-seven year old concerned father Dave Berman was hosting a barbecue for his old college debate team when militant medical marijuana activists kicked in the door and seized his home. Later, after discovering that his teenage daughter Gina Marie has taken to reefer, Dave is forced shed his preconceptions about the drug if he holds out any hope of reconnecting with her. Meanwhile, pro-pot advocate Dr. Willa Peterson has grown so frustrated with her grassroots campaign being sabotaged by prohibition-minded corporations that she ultimately decides to take the battle to the next level. After convincing the makers of Fun-Onion snack foods that their profits would soar following legalization, Dr. Peterson enlists the aid of Public Relations genius Arturo Goldman in changing public opinion about pot. If his firm can successfully counter the government's tactics of using terrorism to frighten people away from pot by convincing the masses that pot can prevent homosexuality, Goldman may achieve the elusive goal of finally decriminalizing a substance that has never been proven either addictive or deadly.
Critic Reviews for Totally Baked: A Pot-u-mentary
All Critics (1) | Fresh (1) | Rotten (0)
Educational, but it's also an enjoyably goofy comedy that will appeal to fans of Mad TV and Saturday Night Live.
April 20, 2007 | Rating: 3/4
Audience Reviews for Totally Baked: A Pot-u-mentary
½
I thought this was funnier than SuperHIGH Me, but not as well organized, blending sketch with real life snippets, and leaving only the top pot afficianadoes to know when something is staged vs. a small dispensary/activist's real PR material (such as Craig X of Temple 420 whom I'm sure people who haven't heard of him must think his segment is a sketch when it is in fact some standard Rev Craig X and Temple 420 footage). Doug Stanhope of SuperHIGH Me fame makes some quick stand-up appearances in this as well. The primary sketch gets a bit cliche and unfunny at times, but the actors and soundtrack usually pick up the lame joke slack. This is a satire written by someone who clearly understands the hypocrisy of political debate and the system of careful manipulation of designated cultural groups for financial gain (the capitalism meets every people-grouping -ism strategy), so I applaud it for one of the funniest jokes about, paraphrased, "Let's tell everyone that pot cures queers so that we can get it legalized. Because what scares the Bible belt mainstream religious right more than anything - not terrorism, taxes, or crime - queers! Such a better effort nowadays in the pot movie realm, and this is one of the best/accurate semi-fiction flix yet. Like I said, lighter, less serious, and less structured than SuperHIGH Me but the injected written bits are often quite funny where SuperHIGH Me's injected activism bits are quite inspiring. The best way to describe this movie is the content of SuperHIGH Me smacked together with the scene layout/editing of The Onion Movie.
_kelly .King
Super Reviewer
The political cynicism is pretty clever but the actual jokes and sketches used to develop these ideas aren't the funniest things in the world. But a pro-pot movie is still a good thing and it does bring up some very valid points.
James Bond, Jr.
Super Reviewer
Totally Baked: A Pot-u-mentary Quotes
There are no approved quotes yet for this movie.