Touching the Void
(2004)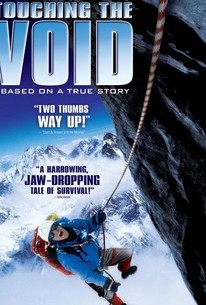 Movie Info
In 1985, two adventurous young mountaineers, Joe Simpson and Simon Yates, set off to climb the treacherous west face of the Siula Grande in the Peruvian Andes. They were experienced climbers, and climbed "Alpine-style," climbing the mountain in "one great push," without setting up ropes or base camps ahead of time. After dealing with a snowstorm and some dangerous climbing over powder formations, they reached the summit (about 21,000 feet) on the third day. The climb down proved to be far more difficult. Simpson fell and broke his leg badly. Yates decided to try to lower Simpson down the mountain, one 300-foot section of rope at a time. The climbers had run out of gas to melt snow, so they couldn't risk stopping as night came, and a violent snowstorm began. Their plodding, painful journey hit a snag when Yates inadvertently lowered Simpson over the edge of a cliff. In the storm, the men couldn't hear each other's cries, and, Yates, uncertain as to Simpson's position, and gradually sliding down the slope himself, decided to cut the rope that connected them, sending Simpson plummeting to certain death. Miraculously, Simpson survived the fall, and was faced with the prospect of getting off the mountain alone with no food, no water, and a broken leg. In Touching the Void, filmmaker Kevin Macdonald (One Day in September) tells their story, based on Simpson's book, using contemporary interviews with the two men, and a reenactment of their climb and descent, featuring Brendan Mackey as Simpson and Nicholas Aaron as Yates. Touching the Void was shown at the 2003 Toronto Film Festival. ~ Josh Ralske, Rovi
Critic Reviews for Touching the Void
Audience Reviews for Touching the Void
½
Mixing interviews with the real participants and reenactments of the event, this documentary/docudrama tells the story of a mountain-climbing pair struggling to survive after one of them breaks his leg. It takes a while for this film to get interesting -- about forty-five minutes. And once it does, it's a decent survival story along the lines of 127 Hours. However, I found the reenactments to be trite because they didn't add much to the story the interviewees told, and the story the interviewees told isn't unique in their language or revelation about their characters. I guess what I'm saying is that I wish the film had found a middle ground in which the reenactments could show, not tell, and the interviews could teach us more about who these people really are and what it takes to survive such an ordeal. The one exception to this is Joe's line: "You gotta keep making decisions, even if they're wrong decisions, you know. If you don't make decisions, you're stuffed." Overall, as survival stories go, Touching the Void is good but not great.
Jim Hunter
Super Reviewer
"You gotta make decisions. You gotta keep making decisions, even if they're wrong decisions, you know. If you don't make decisions, you're stuffed." The true story of two climbers and their perilous journey up the west face of Siula Grande in the Peruvian Andes in 1985.
REVIEW
The simplest of words can sometimes convey far more than the most elaborate action scenes. This runs counter to the whole 'a picture is worth a thousand words', yet is nonetheless true. This film is a docudrama about two young British mountaineers, Joe Simpson and Simon Yates, who in 1985 decided to become the first men to ever scale a treacherous Andean peak in Peru called Siula Grande. They left for their task with a third climber who was to wait at their base camp- Richard Hawking. The film documents the weeklong adventure Joe and Simon had. The first three days were rather uneventful, and the duo reached the summit. It was on the way down that trouble hit. Freak storms were the first augur of bad things to come. Then Joe broke his leg and Simon was left to innovate a technique to lower his partner down the mountainside in 150 foot increments. Then, a second accident befell the duo. In a blizzard, Simon lowered Joe over an overhang that hung over a massive crevasse. When Joe could not signal what had occurred Simon was left in the precarious position of being unable to lift his partner back, and slowly being dragged down the face himself. After a few hours with no signal from Joe, Simon made a fateful decision to cut the rope to Joe, assuming he had died and was a dead weight, lest he face sure death as well. Joe fell into the crevasse, where he dangled for hours. The next morning, a shaken Simon looked in vain, and assumed his partner had died. Simon made it back to the base camp, nearly dead from frostbite, and needed a few days to recover physically and emotionally with Richard. Joe, meanwhile, after much frustration, lowered himself into the crevasse and made his way out, then spent several days painfully eking his way down the mountain with an improvised splint, over glaciers and rock fields. The last night that Simon and Richard were at camp they heard Joe's cries and were shocked that he survived, this is a terrific film as documentary and adventure. A viewer can understand why these adventurers do what they do, as well as recoil from it. Watching Joe Simpson narrate his tale you can see him do both at once, sometimes. It's in those fleeting moments that the viewer gets why this film was.
Lorenzo von Matterhorn
Super Reviewer
I had no idea of the places I was going to go. I'll spoil the first 15 minutes: they already reach the top. The "void?" That's touched on the way down. Halfway into the movie, I couldn't see how everyone is alive to tell the tale. The three men involved in this story masterfully narrate their perspectives, bravely offering us an intimate look into their (our) sometimes-unflattering human nature. It is clear from 18 years of telling this story that they know just what we want to know, and they know just how to tell it. They are still emotional -- it seems likely that they suffer from some level of post-traumatic stress. Kevin Macdonald did a perfect job recreating the events and putting us right into the chaos of their experience. I am in awe.
Matthew Slaven
Super Reviewer
Touching the Void Quotes
| | |
| --- | --- |
| Joe Simpson: | Bloody hell, I'm going to die to Boney M |
| Joe Simpson: | Bloody hell, I'm going to die to Boney M. |