Tower
(2016)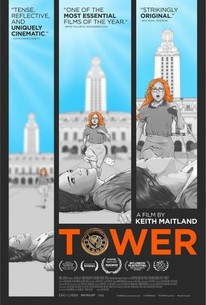 TOMATOMETER
AUDIENCE SCORE
Critic Consensus: Tower probes into a painful chapter of American history with sensitivity and grace -- and revisits its events from a valuable new perspective.
Movie Info
August 1st 1966 was the day our innocence was shattered. A sniper rode the elevator to the top floor of the iconic University of Texas Tower and opened fire, holding the campus hostage for 96 minutes in what was a previously unimaginable event. TOWER combines archival footage with rotoscopic animation of the dramatic day, based entirely on first person testimonies from witnesses, heroes and survivors, in a seamless and suspenseful retelling of the unfolding tragedy. The film highlights the fear, confusion, and visceral realities that changed the lives of those present, and the rest of us, forever - a day when the worst in one man brought out the best in so many others.
Audience Reviews for Tower
½
HEROES, JUST FOR ONE DAY - My Review of TOWER (3 1/2 Stars) Deceptively profound and ingeniously cinematic, Keith Maitland's documentary, TOWER, takes the story of a mass shooting and makes something beautifully intimate about it. On August 1, 1966, a sniper went to the top of the University of Texas' clock tower and opened fire for a tense 96 minutes, killing 16 people in the process. It's no stretch to see the parallels between this incident and the shootings at Columbine, Virginia Tech, the Pulse nightclub and more. Unlike the subsequent incidents in which the shooters garnered more attention than the victims, Maitland takes us back to the one that seemed to start it all and shines a light on those who suffered or died and those who put their lives on the line to stop the murderer. The beauty here is in the telling. Combining existing footage and first person retrospective interviews would have been enough to make a gripping story out of this event, but Maitland is after more. He uses those tools but also adds rotoscoped animation to fill in the blanks. The animated interviews depict the cast of characters at the ages they were at the time and the voices are noticeably young. Maitland used actors for this footage so that we would feel the immediacy of the situation. There's a huge difference between hearing an older person looking back and a young person guiding us in the moment. That we get both perspectives in this film makes it all the richer as an experience. For example, the first to get shot are a pregnant student, Claire Wilson, and her boyfriend. We hear from an animated younger Claire as she describes what it was like to lie bleeding on hot cement for what seemed like an eternity without a clue as to what was happening. When we finally meet Claire as she is today, it's emotionally overpowering, as we truly feel we were right there with her in 1966. We experience her pain and confusion in a way most documentaries just cannot accomplish by way of traditional sit-down interviews. As she lies there next to her boyfriend, the imagery turns dreamy, flowing, as if time was suspended and all she knew was that very moment. When another student risks everything to lie there with them, we witness one of the most selfless acts of courage I've ever seen. Same goes for other victims and heroes. We hear from so many, feeling their desperation, understanding their rage, and having that same adrenaline rush as some of the braver people inched their way closer and closer to the shooter. Helping matters is the sound design and score. Composer Osei Essed brings the right level of melancholy to the film without overpowering it and the jolting gunfire shots on the soundtrack kept me on high alert. I truly felt like I was there, trapped with the faculty and students in that quad. In 1966, America was losing its innocence. With the war in Vietnam raging and Watergate just a fews years away, this film brings us a community of people who weren't used to being on camera. Nobody took selfies then or went LIVE on Facebook. The people don't sound camera-ready, as they do today. There's a stilted innocence to the way people described things. Their quiet observations and uncommon levels of decency and bravery make TOWER a mournful time capsule. Nobody will walk out of this film remembering the name of the perpetrator, but they will definitely know the key players he aimed his rifle at, and in this lurid, information hungry newsfeed culture we live in today, that's nothing short of revolutionary.
Glenn Gaylord
Super Reviewer
Tower Quotes
There are no approved quotes yet for this movie.