Tower Block
(2012)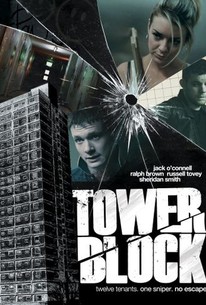 Movie Info
When Jimmy is brutally murdered by two hooded figures, Becky, Kurtis, Neville and the other residents of the Serenity House tower block are witnesses to the killing but, fearing retribution, are too scared to give detectives any information and the police investigation is going nowhere. One year later, someone has decided to take justice into their own hands. Picked off one by one, the tenants of Serenity House are under threat from a mystery sniper who has set deadly traps throughout the building. Unsure of why they have been targeted, the group undertake daring attempts to escape the building.
Critic Reviews for Tower Block
Audience Reviews for Tower Block
½
A low budget British thriller that is pretty tense and gripping, With some good performances from the cast especially Jack O' Connell, The story has been done before but the whole mystery to it kept it fresh, We all knew how it would end and when we found out who the killer was it wasn't a great surprise, A few gruesome scenes keep it entertaining, It's as good as it ever was going to be.
Jamie Clarke
Super Reviewer
½
A decent premise is let down by a terrible script, dour colour scheme and some shockingly bad acting (even the usually fantastic Sheridan Smith is a little clunky). Think Attack The Block without the humour, pathos, technical skill and well chosen soundtrack.
Daniel Parsons
Super Reviewer
½
A decent very low budget UK film, featuring a few well known faces to UK TV audiences. The story is very basic with a group of residents held captive in a Tower block by a sniper. It has a few neat touches and surprises but is rather too predictable and some of the acting isn't great. Catch it on TV if you fancy a change from the normal run of the mill stuff.
Tower Block Quotes
There are no approved quotes yet for this movie.