The Towering Inferno
(1974)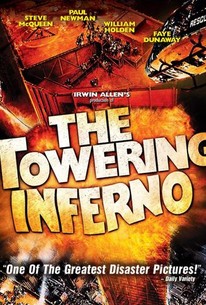 TOMATOMETER
AUDIENCE SCORE
Critic Consensus: Although it is not consistently engaging enough to fully justify its towering runtime, The Towering Inferno is a blustery spectacle that executes its disaster premise with flair.
The Towering Inferno Photos
Movie Info
On the day of its grand opening, the world's tallest building becomes victim to an electrical mishap and a subsequent huge fire on its upper floors, causing all of the city's rescue teams to converge upon the scene and attempt to fight against what is a raging monster.
Critic Reviews for The Towering Inferno
Audience Reviews for The Towering Inferno
½
The Towering Inferno is a clusterfuck of hammy dialogue, overly ambitious cinematography, and explosions aplenty. Meaning of course, that it is surely nestled in Roland Emmerich's home DVD collection, covered with semen stains. While I do give it credit for not bogging itself down the plausible, it's nearly three hour running time really tests the patience of any sane viewer. The fact that the academy even threw this into the same league as The Godfather Part 2 & Chinatown is mind-blowing. Sure the cast is pretty stunning, but the material gives them nothing interesting to do. McQueen and Newman don't even seem into it. In fact, if you listen closely, you can hear them counting their cash in between their scenes. And pardon the pun, but Fred Astaire's performance shows that going down in a blaze of glory isn't always a good thing. However, all is not lost. There is one really ballsy scene in which a young Robert Wagner makes a nearly death defying escape, only to be thoroughly and violently torched. It is easily the best moment in a film that probably shouldn't have been made.
½
Lengthy, yes, but it didn't feel at all lengthy to me. Before I knew it, I was 2 hours into the film, but remember thinking it only felt like 30 minutes...that's always a good sign of being really into a movie. "The Towering Inferno" laid the foundation for good disaster movies to come, both in being huge budget and cast wise, and with great special effects that accompany a story that makes you glad you're not one of the people you're watching on the screen. It isn't as great as "The Poseidon Adventure," but it's still one of the classics of classics in its genre.
Jason Owens
Super Reviewer
½
Decent entry in the disaster genre, character development is obviously kept to a minimum. The two main reasons to watch this are the cast and the old school effects, which stand pretty damn well to this day.
Tsubaki Sanjuro
Super Reviewer
The Towering Inferno Quotes
There are no approved quotes yet for this movie.