The Town That Dreaded Sundown
(1976)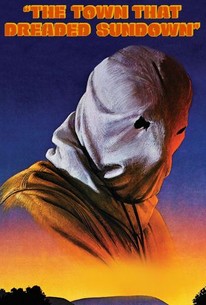 The Town That Dreaded Sundown Photos
Movie Info
This thriller -- based on actual events -- tells in a pseudo-documentary-style of the murders of five people by a man in post-WWII Arkansas. This mystery was still considered unsolved at the time of its release.
Critic Reviews for The Town That Dreaded Sundown
Audience Reviews for The Town That Dreaded Sundown
The Town That Dreaded Sundown is a surprising Slasher film that is very different than the standard Slash and dice formula of so many others in the genre. The film relies more on atmosphere to create the terror on-screen, and it doesn't have a lot of bloodletting, which makes for a terrific little yarn that has been forgotten by many fans of the horror genre. Another thing that sets this film apart from the traditional Slasher is the good acting from its cast. The cast do a fine job in their roles and Director Charles B. Pierce has assembled a good cast here. The plot is based on real events, which makes this for compelling an engaging viewing. This is a skillfully executed picture that gives the viewer a true, terrifying horror experience that is gritty, tense and in your face. A film like this is rare in the Slasher genre, and only a few films have had the honor of joining this one in terms of using atmosphere and suspense to deliver the chills necessary to thrill the viewer. The kill sequences are nerve racking, and are better constructed than many mainstream Slasher flicks. Since this is a true story, it makes it that much scarier. Actor Ben Johnson (Terror Train) is one of the high points of the film, and his performance in itself is very good. Director Charles B. Pierce has crafted something totally unique here, and this is the most surprisingly effective Slasher yarn that has been released in the 70's that has some well thought out kills that doesn't overdo anything and effective performances with a well structured plot. This is a rare gem of a horror film that is overlooked, but should definitely be seen by every serious horror film fan. The Town That Dreaded Sundown is far better than many films in the genre.
The Town That Dreaded Sundown is a semi-autobiographical story about the Phantom Killer who went on a murder spree in the 1940's in Texarkana, Texas. I seriously do not understand why this film has been heralded as much as it has. I wonder just how many people have actually seen it lately. Being that it has never been released on DVD, I really wonder how many people have actually seen it in the last twenty years or so. It's so appallingly bad - everything from dialogue, story, tone, direction - you name it. It's just so horrifyingly dull. I give it a star mainly for the imagery of a hooded figure, which was later ripped off over and over again by other horror films, and the fact that Dawn Wells is a murder victim in it. Other than that, just plain bleh.
Tim Salmons
Super Reviewer
½
A surprisingly successful low budget horror movie based on the true story of a hooded serial killer who terrorised Texarkana in the mid-1940s. Whether by accident or design, the occasionally wobbly supporting performances, the flat style of direction, the score and the authentic semi-documentary voiceover give the film a pleasantly old-fashioned feel, in keeping with the period reconstruction. Only once or twice is the effect spoiled by the modish use of slow motion, and I could also have done without the comedy interludes which, though mildly amusing and far from terrible, hurt the tone of the picture, I feel. The scenes featuring the killer - including perhaps the most imaginative use of a trombone in cinema history - are, however, very well executed, surprisingly brutal and genuinely frightening. Good performances from Andrew Prine as the local Deputy Sheriff and Ben Johnson as a hotshot Texas Ranger drafted in to co-ordinate the manhunt.
The Town That Dreaded Sundown Quotes
There are no approved quotes yet for this movie.