Town Without Pity
(1961)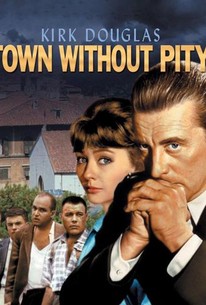 Movie Info
Filmed on location in Germany, this socially conscious courtroom drama chronicles the trial of four American soldiers accused of gang-raping a local teen-age girl. The girl's father and the burgermeister demand that the guilty four receive the death penalty, but for that to happen, the traumatized and socially outcast girl (because before the rape she was a bit promiscuous) will have to face her assailants and identify them. The trial creates quite a brouhaha in town as the self-righteous residents begin discussing the town. Meanwhile an American defense attorney prepares a ruthless line of courtroom questioning for the girl. She cannot handle his cruelty and crumbles on the stand. The trial ends; the soldiers are convicted but escape the death penalty and are sentenced to jail terms. Afterward the despondent girl takes her life, and the prosecuting attorney suddenly finds himself a pariah for being so mean on the stand.
News & Interviews for Town Without Pity
Critic Reviews for Town Without Pity
All Critics (5) | Fresh (3) | Rotten (2)
If it had more going for it than [Kirk] Douglas's electrifying performance ... I'd recommend it
Moralmente complexo, o filme analisa a estigmatização das vítimas de estupro e conta com uma atuação brilhante de Douglas como um homem torturado por seus deveres.
February 27, 2004 | Rating: 4/5
Audience Reviews for Town Without Pity
A bit numb courtroom drama. It wasn't tense, emotional, thrilling or gripping enough. It rather seemed to focus more on the state of the town's mindset. And it wasn't an appealing approach. Strong dialogues and aggressive performances might have helped. Otherwise, except for the Berta Kulig's testimony sequence, there isn't much in terms of entertainment. On the whole, numb as it is, it's still a watchable piece. More or less.
familiar stranger
Super Reviewer
Very well acted but an ugly look at the viciousness of the human race.
Town Without Pity Quotes
There are no approved quotes yet for this movie.