Citizen Toxie: The Toxic Avenger IV
(2000)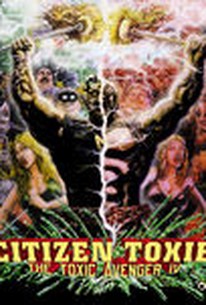 Movie Info
After 10 years of peace in Tromaville, terror rears it's head again as The Toxic Avenger's evil double, Noxie, kills innocent citizens. It's up to Toxie, Sgt. Kabukiman, NYPD, Master Bator, and Dolphin Man to save the day.
Critic Reviews for Citizen Toxie: The Toxic Avenger IV
Audience Reviews for Citizen Toxie: The Toxic Avenger IV
½
An explosion causes the Toxic Avenger to switch dimensions with his evil bizarro-world opposite, the Noxious Avenger. Hopefully this will be the final installment of the franchise; the ratio of 10 incredibly lame/purposelessly offensive jokes to 1 funny gag is getting hard to take. Never thought I'd say this, but Ron Jeremy should fire his agent for landing him roles that are beneath his dignity.
½
Citizen Toxie: The Toxic Avenger Part IV returns to the basics and gore that made the first a classic even though The Toxic Avenger Part II and Part III was pretty good. Toxie's heroic voice returns and they're seems to be more gore in this one than the first film, it was great to see Troma's other hero Sgt Kabukiman N.Y.P.D in this film. The other superhero's was a laugh like the Masterbater and Dolphin Man. The alternate universe for Tromaville and the alternate characters was something interesting such as we see the Evil Kabukiman and Noxie, even Sarah and Lard Ass's alternate characters. Watch out for Marvel Superhero creator Stan Lee has the narrator. The Toxic Avenger Part IV is worth a watch.
Cassandra Maples
Super Reviewer
½
Troma movies I have mixed feelings about. In one hand, they have such ridiculous things happening that you have to laugh, but on the other they are so messed up that you have to take a shower afterwards. This film is no exception.
Curtis Lilly
Super Reviewer
Citizen Toxie: The Toxic Avenger IV Quotes
There are no approved quotes yet for this movie.