Toy Story of Terror!
(2013)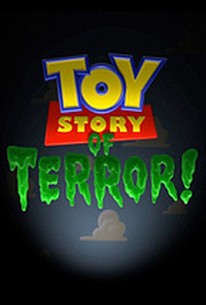 Toy Story of Terror! Photos
Movie Info
What starts out as a fun road trip for the Toy Story gang takes an unexpected turn for the worse when the trip detours to a roadside motel. After one of the toys goes missing, the others find themselves caught up in a mysterious sequence of events that must be solved before they all suffer the same fate in this Toy Story OF TERROR! -- (C) ABC
News & Interviews for Toy Story of Terror!
Critic Reviews for Toy Story of Terror!
Audience Reviews for Toy Story of Terror!
The team are back...if you don't count the numerous cartoons and shorts over the years, but yet they're back. Yes despite my rather cocky introduction there I was pleased to see the toy crew back for more adventures as I'm sure everyone else was too. Much to my pure pleasure this story centres around a horror tale of sorts, admittedly not in the same vain as 'The Simpson's Treehouse of Horror' tales which I was kinda hoping for but its all good. That's not to say this short animated tale is all dark and creepy with elements of Cushing, Lee and Price, alas no (even though the intro does lean that way like its teasing you...damn them!). Its much more straight laced than that and still takes place within the semi real world we all from the films. Gotta be honest this did disappoint me as I really wanted to see a kooky haunted mansion type horror along the lines of 'The Addams Family', I really think that could of been cool. The film does feel a tad tired I can't deny, the plot is the usual toys in trouble affair with the team getting split up and the others having to rescue them. Its not exactly genius but it just about works although the laughs are few and far between in all honesty. It looks good of course, all the characters are present and correct with their original voices by the original stars which is nice. Wasn't too sure about the pet iguana that acts like a dog, yes I know its a kids cartoon essentially but that just seemed too stupid to me, too toonish. The best thing about this new short is easily Combat Carl voiced by Carl Weathers. This character easily equals Buzz in terms of great humorous dialog and his sheer retro design, the classic macho man action figure of the 80's and beyond. I also thought his mini version was a nice touch too, the type of smaller figure that would fit inside an action vehicle...like the small M.A.S.K. figures. Weathers was perfectly cast for this little role he really was, I loved how the action figure was basically a young Weathers probably based on his character in 'Predator'. Then there was the awesome brief appearance of the Transformer type robot toy who comes apart and reassembles when required (looked a bit like Voltron), the fat superhero toy, the Pez dispenser and that Lego type character. End of the day the story is slightly weak I can't lie about that but its the great retro toy characters that keep you entertained. Fun for the kids because its an animated cartoon, and fun for the adults because we can reminisce about all these old toys we used to have. Surely you all remember how cool it was to see plastic soldiers in action in the original huh...am I right? Just don't expect anything as sizzling as the movies. 'can it Pants! life ain't a movie, they're never coming back'
Phil Hubbs
Super Reviewer
½
Fun short feature from Pixar that revisits Woody and the gang, Toy Story of Terror is a fun, entertaining affair that retains that vibe of the full length trilogy of films, yet offers up something new and refreshing as well. Does this short humorous film cut it. Well I believe so, if you wanted a glimpse of your favorite characters from the Toy Story franchise again in a humorous, since the third part was pretty, poignant, powerful and unforgettable, well I believe that this is a short that should be seen. I really enjoyed this short even. Even if it was twenty minutes in length, in felt great to see these beloved character again on-screen. This one definitely did do something quite incredible with its material. Sure, it's not a masterwork like so many other Pixar animated features, and I agree with that statement. However, this short little gem is mostly for those that really love the characters. If you're skeptical about it, then maybe take an open minded approach to it. The film works very well, and definitely features all the key ingredients that have made Pixar's full length features is quite enjoyable for everyone of all ages. For animated feature, I really enjoyed what Pixar has pulled off, and for what it's worth, it's also a fun Halloween season viewing for the whole family. Even with its short length, this one has tremendous heart, and you got to appreciate what is presented on-screen because it's a fun and whimsical gem of a short that permits us to revisit the Toy Story gang one last time, in a much more laid back atmosphere than the previous full length feature, which was great fun, but the ending was heartbreaking.
½
Very cute. Will make a good new Halloween tradition!
Toy Story of Terror! Quotes
There are no approved quotes yet for this movie.