Tracker
(2011)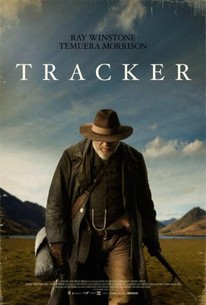 Movie Info
Set in 1903, Tracker is a tense action thriller in which Arjan (Ray Winstone :44 Inch Chest, London Boulevard), a guerrilla survivor of the South African Boer War, lands in colonial New Zealand and is promised a huge bounty to capture Kereama (Temuera Morrison: The Green Lantern, Once Were Warriors), a Maori seafarer accused of killing a British soldier. What should be a simple job for Arjan, a master tracker, turns into a gripping and dangerous game of cat and mouse as Kereama repeatedly escapes and is recaptured - all the while insisting on his innocence. As each man gains and loses the upper hand, they gradually get to know and respect one another. Culminating in an emotional and high risk showdown, they find they have more in common than simply a mutual hatred of the British.
Critic Reviews for Tracker
Audience Reviews for Tracker
½
Say what you will about the long intrusive lines at customs these days, but you've probably never had a gun pulled on you like Arjan van Diemen(Ray Winstone) does when he tries to enter New Zealand from South Africa after the Boer War in 1903. And it has less to do with the rifle he is carrying than the long memories of the British soldiers he fought in a dirty war. Still, Major Carlysle(Gareth Reeves) allows him to enter the country, even providing a bit of work in using his tracking skills to find Kereama(Temuera Morrison), a Maori, unjustly accused of murder. The reward is 100 sovereigns alive, 25 sovereigns dead. At first, "Tracker" might seem like a lot of other movies that have come before it with apparently Ray Winstone playing another one of his patented scary badasses. But as time goes on, his excellent performance uncovers previously unseen layers to his character.(And why nobody had thought of casting Winstone as a protagonist in a western before this, I have no idea.) Even Carlysle tries to do his best for everybody concerned. And while we have seen plenty of the beautiful New Zealand scenery before in "Lord of the Rings" and the bughouse "Top of the Lake," what we are exposed to here is the less familiar brutal history of not only that country, but also that of the Boer Wars, both involving people on the wrong end of the mighty British Empire.(I love van Diemen saying he traveled to New Zealand out of curiosity of the British.) All of which adds depth to this already thoughtful and compelling story. And on a very, very minor note, I would have preferred this movie be called "75 Sovereigns."
Good movie! Hard to understand accent a fee times. Beautiful cinematology
Deb Jarnagin
Super Reviewer
Tracker Quotes
There are no approved quotes yet for this movie.