Trailer Park Boys: The Movie
(2006)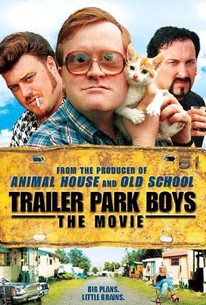 TOMATOMETER
AUDIENCE SCORE
Critic Consensus: Trailer Park Boys suffers from its small-screen origins, and its tasteless humor is not for everyone, but it will satisfy fans of the genre.
Trailer Park Boys: The Movie Photos
Movie Info
Three dope-smoking ex-convicts live among friends and family in the fictional Sunnyvale Trailer Park.
Critic Reviews for Trailer Park Boys: The Movie
Audience Reviews for Trailer Park Boys: The Movie
Ricky: You just gotta make sure the cops don't get your prescription, cause once they have your prescription, you're fucked!  "Big Plans. Little Brains." Trailer Park Boys: The Movie is a funny little movie about three dumb friends that live in a trailer park. If you've seen the show before then you know sort of what to expect. As far as a feature movie for them goes, this isn't too bad. It's funny, it's brisk, and it definitely keeps the social commentary flying throughout. It's not a masterpiece or anything too special, but it is solid, fun entertainment and I do have an appreciation for it. Three moronic friends living in trailer park get back together after two of them just get out of jail. Now they have some decisions to make. Ricky wants to pull the big dirty, which means going for one big payoff and then retire. Julian wants to take it a little easier and go for change. Literally, he wants to rob change from parking meters. When Julian goes to the movie theater and sees the biggest globe of change he's ever seen, he decides to do the big dirty, but still keep the change idea.  The comedy on display here is something you're either going to like right off the bat or you're going to hate. This comedy isn't the type that grows on you. You either like it or you don't. Not everyone finds "trailer park" humor funny. I for one do, but hey, opinions are like assholes, everyone has one.  It's rude, it's profane, it's obscene, it's hilarious. The great thing about the material at hands here is it can be ridiculous while keeping a sense of real life in it all. It's easy to believe there's people like these three friends out there in some trailer park, and I bet there's some people that are this bad of criminals out there too.
Melvin White
Super Reviewer
Countdown To Liquor day one terrific comedy film. This is by far one of the funniest and best Canadian films out there. Countdown To Liquor Day is a hilarious film from start to finish. Of all the Canadian films out there, Countdown To Liquor Day is one of the funniest films to come out of Canada. This film far superior than the first film, which was also good, but lacked a little something. Whatever it was, the filmmakers found what was missing, and were able to capture all the debauchery of the Trailer Park Boys in this more than average sequel.
½
I love dis show. More people should see it, it's hilarious.
Emily Armstrong
Super Reviewer
Trailer Park Boys: The Movie Quotes
There are no approved quotes yet for this movie.